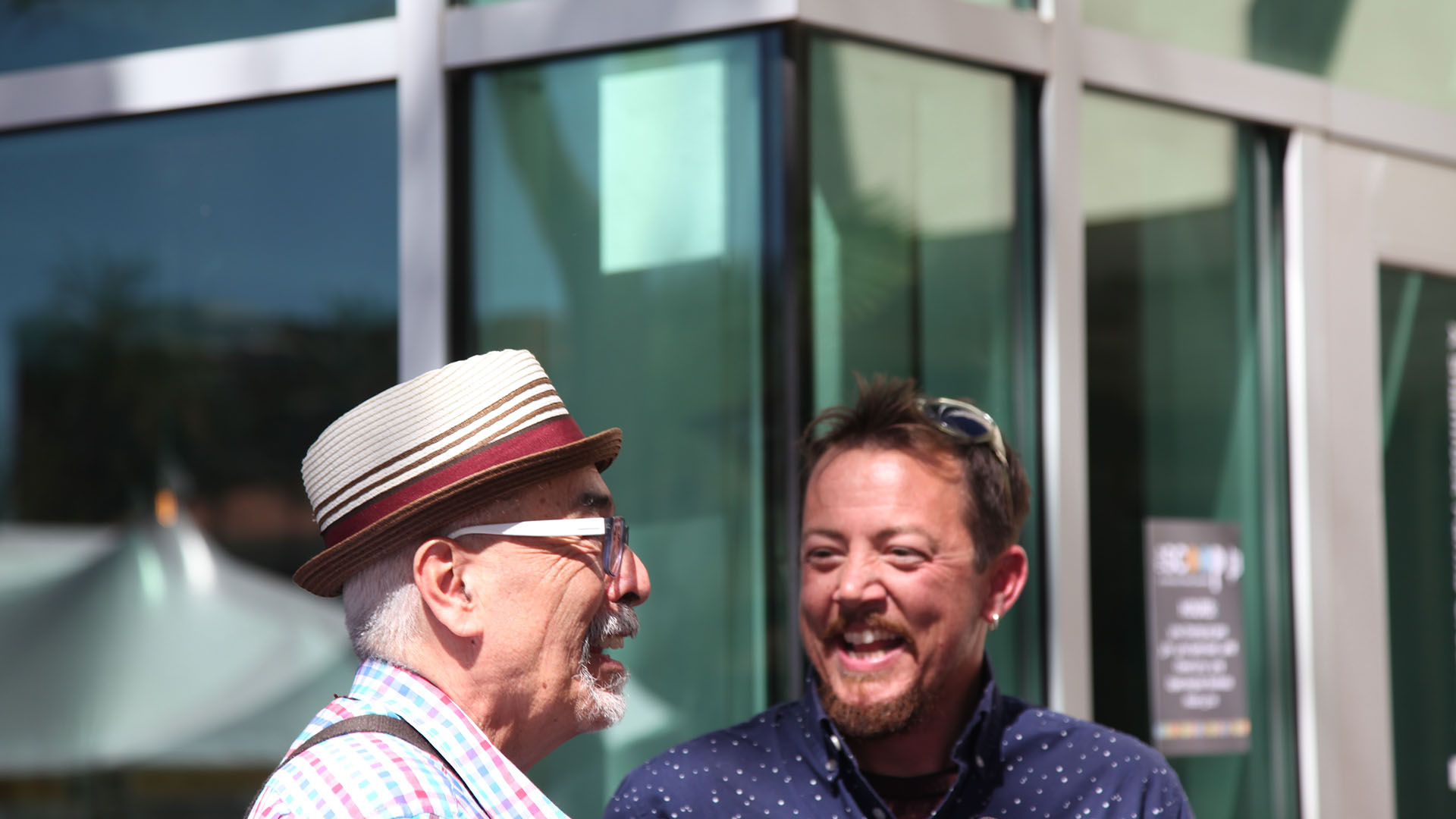 U.S. Poet Laureate Juan Felipe Herrera, left, and Tucson Poet Laureate TC Tolbert, March 10, 2017.
Nick O'Gara, AZPM
Tucson added another verse to its poetic narrative Friday with the arrival of the U.S. poet laureate and the naming of the city's own next laureate.
U.S. Poet Laureate Juan Felipe Herrera and Tucson Poet Laureate TC Tolbert were joined by Mayor Jonathan Rothschild for the announcement of the latter's appointment at a press conference on the University of Arizona campus Friday afternoon, surrounded by vendors and volunteers preparing stands for the Tucson Festival of Books.
Earlier in the day, Herrera made a stop at Davis Bilingual Magnet School for a special presentation, or as he called it, a "poetry orchestra," with the students. Herrera was in Tucson for the Festival of Books, and the UA Poetry Center coordinated the event at the school.
The performance braided both Spanish and English into a swirl of poetry, song, improvised theater and call and response between the poet and the students.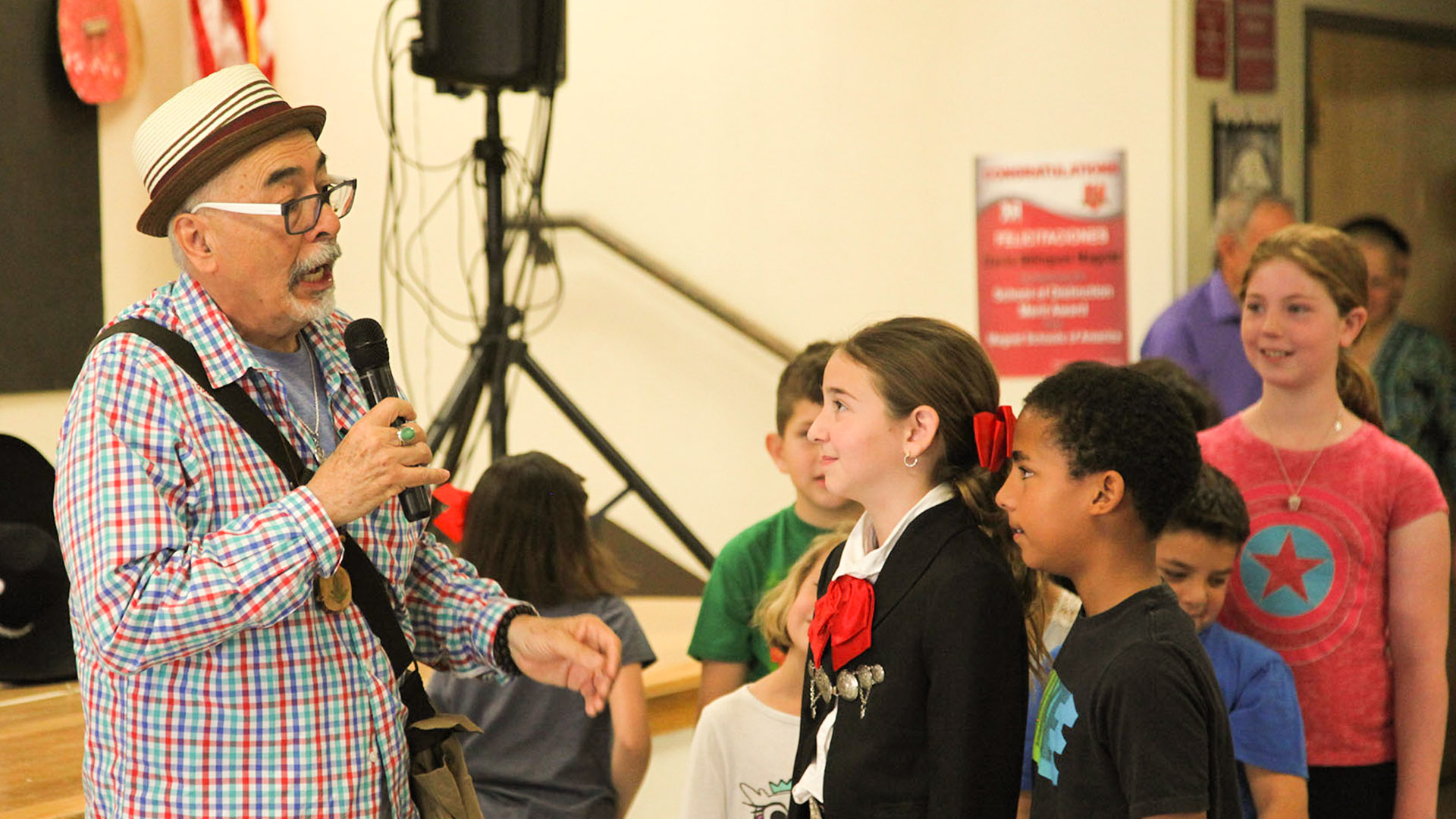 U.S. Poet Laureate Juan Felipe Herrera performs some impromptu theater with students from Davis Bilingual Elementary Magnet School, March 10, 2017.
Laura Maher, AZPM
"It's all on the moment. It's kind of like poetic, audience performance. … They were just so excited, and exciting. And the teachers the same - they were so full of energy," Herrera said.

Even the U.S. poet laureate can face challenges while performing, especially when his audience is a sea of kinetic elementary school children.
"I thought, you know, I have them right here, and I don't want them to get tired out, and they've been really great so far. So I'm going to create a little theater group with out of them. … They improvised it all, along with me and the rest of the students, which participated, too, making acoustic sounds," Herrera said.
Shortly after, Herrera made his way to the UA for the announcement of Tucson's next poet laureate, TC Tolbert.
"I'm also very happy that we have TC as our new poet laureate of Tucson, and I can't wait to see him in action, and awed. How beautiful. I think this is a great celebration, a moment of celebration on many levels."
"I'm really overwhelmed, and especially overwhelmed to hear - in one 10-minute segment - the mayor and Juan Felipe Herrera say my name," Tolbert laughed.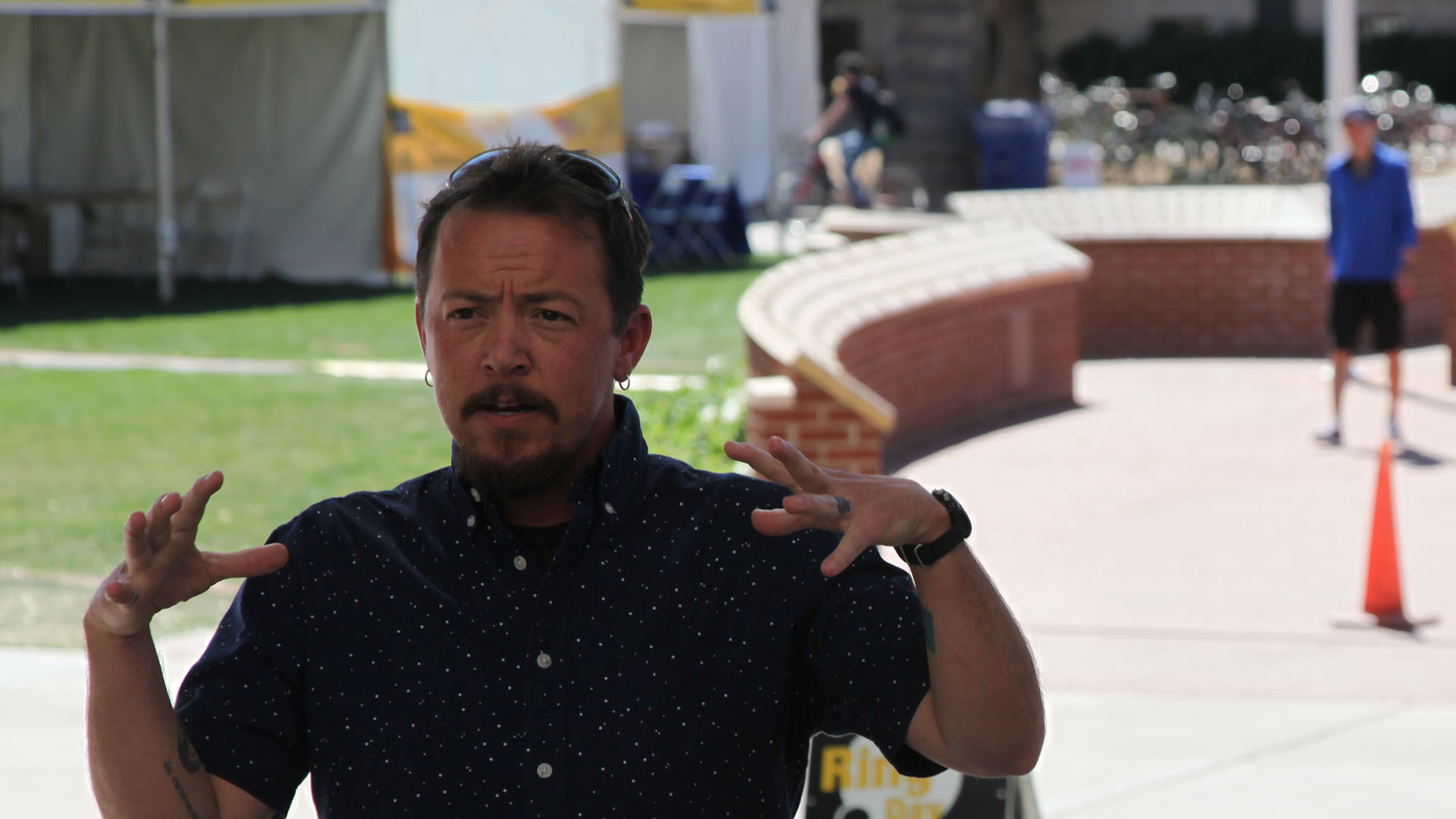 TC Tolbert speaks at the announcement of his appointment as Tucson poet laureate, March 10, 2017.
Laura Maher, AZPM
Tolbert, who moved to Tucson about 15 years ago, said this city was the place s/he could come out as transgender and queer, as well as bridge his identity as a poet and person.
"Tucson has always been a place that merges social justice and arts, and I just feel so honored to be able to continue that tradition and to continue to uplift the voices of youth, and just go out there and help people speak their truths," s/he said.
Tucson already has a "rocking" literary scene, Tolbert said, which s/he hopes to bolster. Beyond that, the poet has ideas about how to extend the reach of poetry in the city, especially to young voices.
"I'm really looking at how can poetry can interact with people where they are instead of expecting people to come to poetry, because that's a big leap for some folks to make. Sometimes I think poetry can feel intimidating so I want to make it as accessible as possible."
Tolbert's two-year appointment follows that of the previous poet laureate, Rebecca Sefeirle, who moved out of state, Rothschild said.
Herrera, the first Chicano U.S. poet laureate, was appointed by Librarian of Congress James H. Billington in 2015. Learn more about Herrera and the role and history of the poets laureate at the Library of Congress website.
Hear more from both poets in upcoming episodes of Arizona Spotlight.
This story has been updated to say that Juan Felipe Herrera was appointed poet laureate by Librarian of Congress James H. Billington.