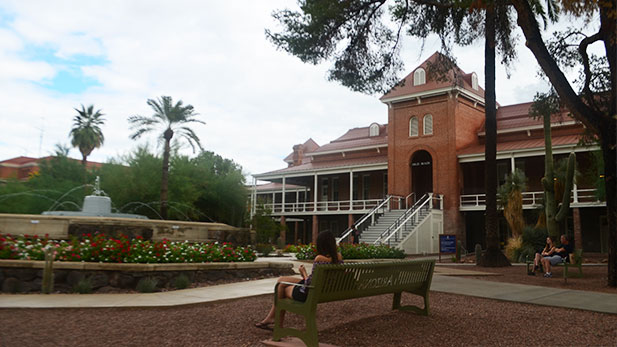 Students sit on benches at the front entrance of Old Main. (PHOTO: Maria Inés Taracena, AZPM)
The University of Arizona College of Pharmacy needs to raise $9.5 million to expand and renovate its departmental building.
The renovation of the Skaggs Pharmaceutical Sciences Center will cost almost $32 million, but a large portion of that has already been covered, said the college's Allison Benjamin.
"We have received several gifts and commitments, but part of the commitments are contingent upon us being able to raise the $9.5 million," she said.
The ALSAM Foundation has provided at $10 million challenge grant and - should the fundraising effort be successful - the UA has committed to contribute another $10 million.
Benjamin said the Skaggs building is 35 years old and is outdated.
"And so this gift will allow us to increase research, increase the amount of space for the pipeline of future pharmacists, and just overall help us contribute to health care," she said.
The goal is to raise the $9.5 million by the end of 2017.