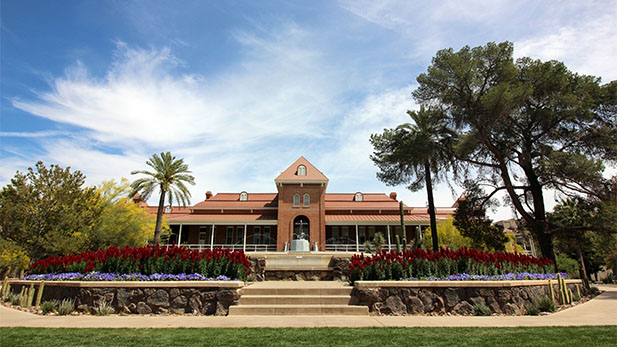 Old Main on the University of Arizona campus. (PHOTO: Julianne Stanford)
The University of Arizona Friday proposed a 3.9 percent increase in tuition and fees for incoming in-state undergraduate students.
The tuition proposal, for the 2017-18 year, would move in-state undergraduate tuition and fees to $12,228, from the $11,769 new students paid last year. New out-of-state undergrads will pay $35,658, a 2 percent increase.
The cost of studying at the UA will be unchanged for 92 percent of returning undergrads, whose costs are already locked in by the Guaranteed Tuition Plan, which has been in place for the past three years. Those students will pay the same for tuition and fees as they did this year.
A new mandatory fee of $100 for incoming undergrads is proposed to support athletics. New graduate students will be charged a $50 athletic fee, but can opt out.
The Arizona Board of Regents will host a public comment session on all three public universities' tuition proposals March 28 from 5 to 7 p.m. on each campus. The UA session will be at the College of Education building, Room 102.
The regents are set to vote on the proposals at their next regular meeting April 6.