Hear about the Arizona Education Network, a one-stop resource for parents to learn about and get involved in our state's education legislation.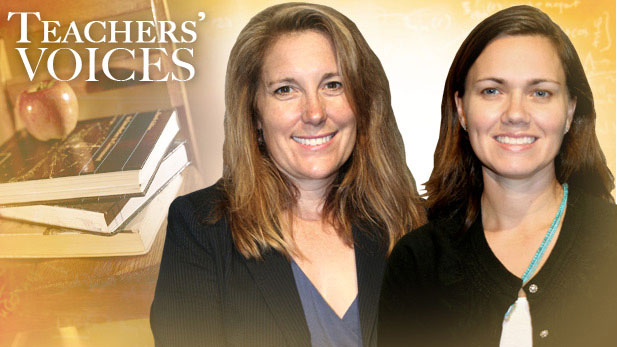 Teachers Voices: Ann-Eve Pedersen and Jen Darland (PHOTO: AZPM)
Ann-Eve Pedersen (left) and Jen Darland (right), co-founders of the Arizona Education Network
Staying up to date with the latest education legislation in our state is a full-time job.
And it is easy to see why most parents would feel overwhelmed and uninformed about our state's education crisis.
"I just wanted an idiot's guide," said Jen Darland, who at that time was the parent of a pre-schooler about to go into kindergarten.
"I needed some place to go to understand what I was hearing about increased class sizes and tax credits. What are they and how do they impact my school? What does it mean to be an equalized funding state? And all of the stuff that was starting to come up in coffee-talk conversations with my girlfriends."
Through a mutual acquaintance, Darland was introduced to Ann-Eve Pedersen, who was also concerned about the long-term impact of Arizona continually being nationally ranked towards the bottom in education spending.
"I think about my family members who have gone to Tucson schools for several generations and I think how each generation did better than the generation that preceded it and it did that through education," Pedersen said.
"What motivated me to get involved was having a son, who at the time this was all beginning was in first grade. I was seeing signs that for the first time in our families' story in the United States, he might be getting less of an education than any of us received."
Darland and Pedersen both recognized the time constraints of being a parent, which don't allow for extra hours studying up on the voting records of their elected officials. Both saw the need for a "one-stop shopping place" for accurate and up-to-date information about the legislative process behind education funding in our state.
So, in 2009, they created the Arizona Education Network. An organization that provides parents the resources to stay informed with the latest in education issues.
The group has grown from about 5 to 10 people around a kitchen table to a newsletter that reaches about 3,700 people all over the state and beyond.
To hear more stories, visit the Teachers' Voices archive.
(Funding for the production of Teachers' Voices is provided by Wells Fargo and the University of Arizona College of Education. The series is produced by Matt Felix for Arizona Spotlight.)