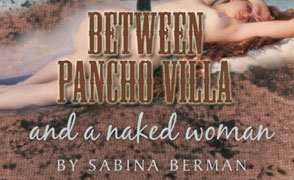 She wrote the critically-acclaimed play Between Pancho Villa and a Naked Woman, which just completed a run at Tucson's Borderlands Theater.
Historically, Mexico is viewed as a country that has been defined by machismo, and a male-centric perspective. Author, journalist, and social critic, Sabina Berman points to the Mexican Revolution as a perfect example of this discrepancy of the sexes.

Berman has written about Mexican Society from the perspective of a woman and she says that the 21st century has ushered in many changes that threaten to uproot the male-dominated structures of the past.

Sabina also grew up Jewish in a cultural landscape defined by Catholicism, and her lifelong struggle to find her own identity within two distinct social structures has helped inform her writings.

In her celebrated play titled Between Pancho Villa and a Naked Woman, staged recently in Tucson by Borderlands Theater, Sabina Berman uses humor to examine the Mexican Revolution. She recently visited Tucson during the Borderlands Production and had an opportunity to talk Luis Carrión about the play, and about what it means to write from the perspective of the outsider.

The Borderlands Theater
More about Sabina Berman, from the Jewish Women's Archive