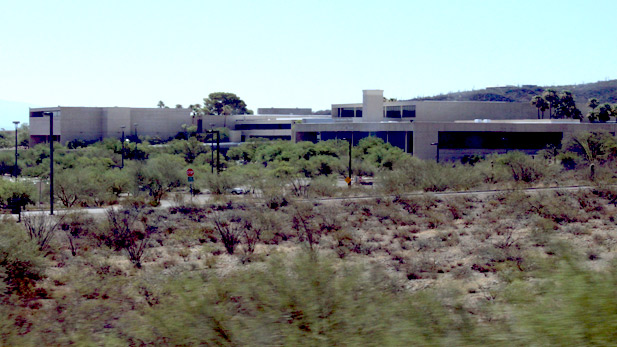 Overlooking the campus of Pima Community College, West.

Stephanie Torres, AZPM
After years of declining enrollment and the loss of state funding, Pima Community College is at a crossroads.
The school has unveiled three budget scenarios that the Governing Board will vote on in May.
"Scenario A is maintaining the status quo, not doing a lot of big, significant budget cuts right now," said David Bea, executive vice chancellor for finance and administration. He said that scenario "limits our ability to reinvest in our facilities and programs."
The scenario B would cut operations by $5 million each of the next three years by eliminating a number of programs.
"And then the last version is one that really looks like what a business would do," Bea said.
That option would cut $10 million, about 7 percent of the school's budget, next year with two more $10 million cuts subsequent years. That would result in eliminating programs and closing at least one campus.
Bea said the goals are "keeping tuition increases as moderate as possible, keeping the impact on employees to be as little as possible, and then to make sure that we reinvest and reinvigorate the academic programs."
The second option seems to be the most appealing around Pima Community College, he said.
Bea will present the three budget options at public meetings, and community members are invited to provide input.
The presentations will be held from 5:30 to 7 p.m. on the following dates:
Wednesday, El Rio Learning Center, 1390 W. Speedway Blvd.
April 3, PCC 29th Street Coalition Center, 4355 E. Calle Aurora.
April 5, El Pueblo Liberty Learning Center, 101 W. Irvington Road, No. 7.
Click here to see information on the budget proposals.
You can provide public input here.