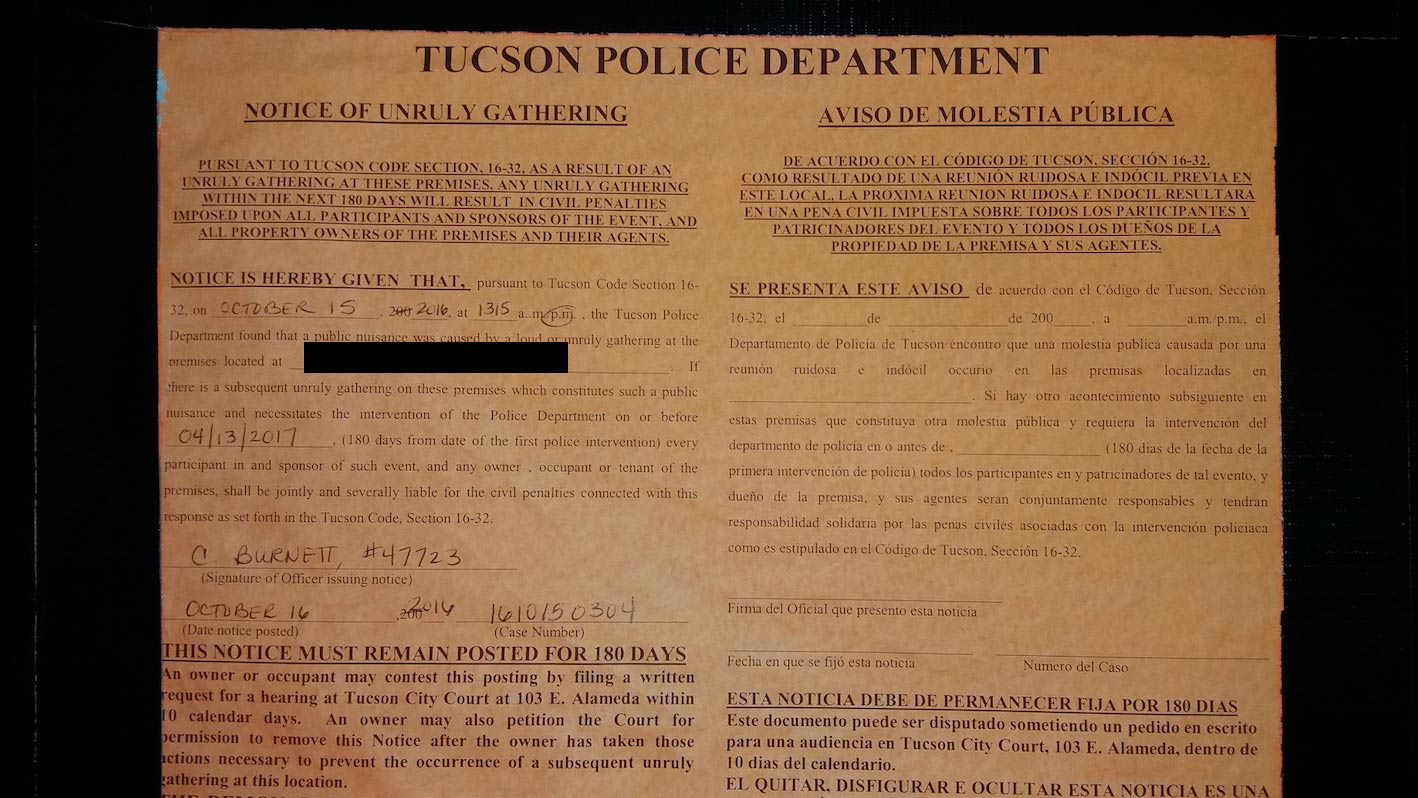 A Tucson Police Department red tag citation.
University of Arizona students met this week with residents of neighborhoods near campus to discuss unruly student gatherings that police said have led to 63 citations, including fines, so far this school year.
Members of student government met with neighbors at City Councilman Steve Kozachik's Ward 6 office to discuss the "red tag" ordinance, which allows police to tag any residential property at which there were at least five people gathered and about which there was a complaint of excessive noise or traffic, unruly behavior and fighting or disturbing the peace.
Students complained that the ordinance is too vague, and they asked for changes.
"What we're advocating for the definition of unruly gathering to be clearer for students," student representative Clark Knobel told Kozachik and neighbors at the meeting.
Knobel said that should include a maximum decibel level a gathering could reach before the police are called. He has started a petition online to push the request and said it has nearly 1,000 signatures.
Nancy Defeo, who lives in the Sam Hughes neighborhood east of campus, said requiring a decibel limit is unrealistic.
"As soon as you put it into that realm of this finite measurement, you are putting way too much of a burden on the property owner," Defeo said.
Both sides exchanged contact information at the end of the meeting. Kozachik said he hopes the connections will encourage students to foster better relationships with neighbors.
The City Council recently increased fines for red tags to $500 the first offense, up to $1,750 for a second offense and up to $2,000 for a third. Police have issued 314 "red tags" in the last five years, mostly near the university campus.
CORRECTION
An earlier version of this story erroneously identified Councilman Steve Kozachik's ward. He represents Ward 6.