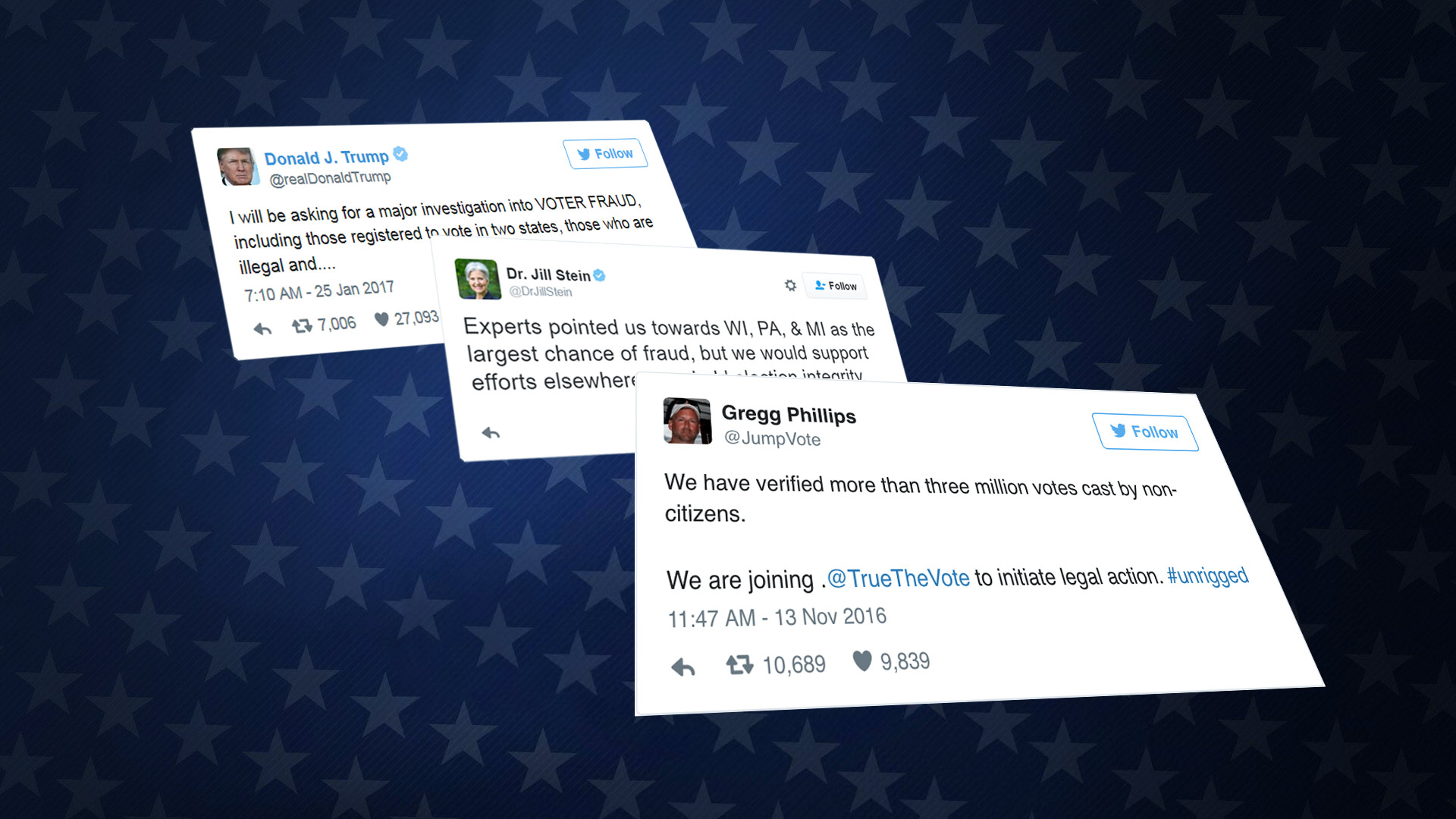 Persistent claims of voter fraud have been denied by state and county officials, who say it is a rare occurrence. (PHOTO: AZPM Staff)
Part 1 of 2
Part 2 of 2
Pima County Registrar of Voters Chris Roads received a voter-fraud tip last November.
"A lady called to report that she was witnessing, at that particular moment, vans full of illegal aliens being unloaded at a polling place being allowed to vote," Roads said.
There was just one problem.
"It was the day before Election Day, and the polling place was not open," he said.
Complaints about busloads of people voting illegally were a common refrain from Donald Trump and his supporters before and after the November election.
Roads said the complaint is nothing new.
"That particular allegation we've heard consistently, almost every election for the last 20 years with absolutely no evidence whatsoever to back it up" - County election official Chris Roads
Yet the claims continue. Pima County Republican Party Chairman David Eppihimer, in a meeting with Arizona Public Media reporters in February, cited widespread voter fraud in Pima and Yuma counties.
He said it included Motor Vehicle Department employees handing out voter registration forms to non-citizens.
Arizona's top election official, Republican Secretary of State Michele Reagan, said even if that were true, it would not work.
"We get sent that information, the counties get sent that information, and we bounce it back to see are they citizens before they are issued voting privileges," Reagan said.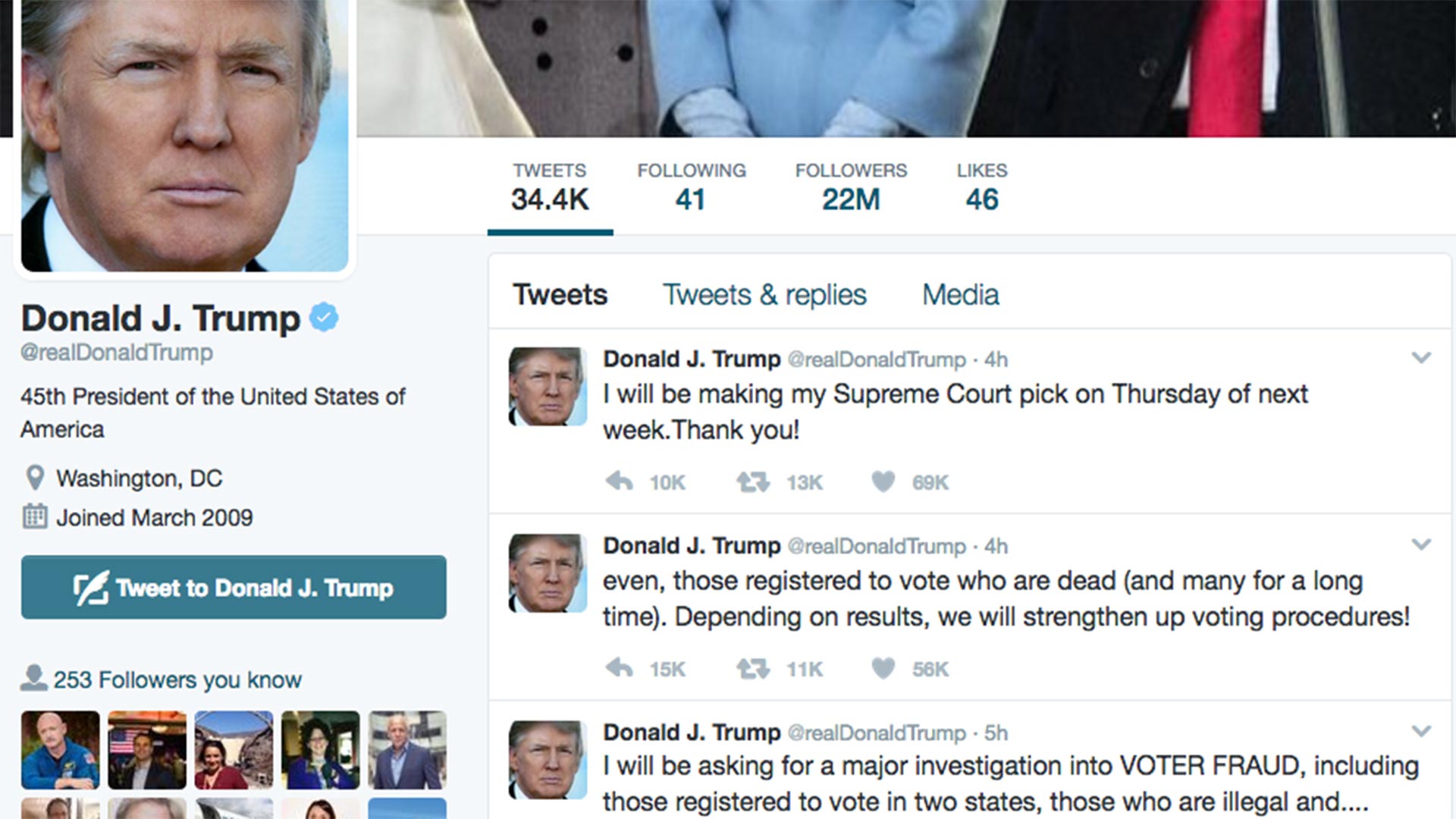 President Donald Trump sent out tweets about investigating voter fraud during the November 2016 election..
Eppihimer said in February the FBI was investigating incidents of voter fraud in Arizona. The FBI said no voter-fraud investigation was underway in the state.
Election officials in state government and Yuma and Pima counties said incidents of voter fraud are extremely rare. The secretary of state's office checked every precinct in the state for turnout patterns in the 2016 general election.
"So, for instance, it was maybe 40 percent of a precinct voting in the past election," Reagan said. "But now all of a sudden 75 percent of that precinct is voting. And that would be a trigger to something strange going on. He checked the entire state and didn't find any incidences that were extremely alarming."
Five months after Election Day, two voter-fraud investigations are underway in Pima County. They involve two people who went to two polling places each, claiming to live in those precincts.
"Which may seem like quite a bit, but we had almost 400,000 people vote (in the general election) here, and we are talking two," Roads said, and they were caught.
The most common type of voter fraud in Arizona involves mail-in ballots. Last year, in four statewide elections, nearly 1 million mail-in ballots were cast in Pima County. Roads said about two-tenths of 1 percent were thrown out.
The reasons for tossing out those 2,000 ballots included people who didn't return calls questioning suspect signatures and about 250 people whose ballots were voted by someone else and the signatures did not match.
What about the persistent claims that non-citizens and people in the country illegally cast ballots in significant numbers?
"No," Roads said.
He said cell phone video, ubiquitous in all sorts of other wrongdoing, is non-existent when it comes to illegal voting.
"The fact that there isn't a video of this going on anywhere, when there are six television shows devoted to Big Foot and they are all videotaping creatures and so on. There should be pictures if this is widespread," Roads said.
This week, county Republican Party Chairman Eppihimer said in an email that he would not disclose names of people who he said witnessed voter fraud attempts at the Motor Vehicle Department because he said they feared for their safety.
He referred further questions to the state Republican Party. Multiple requests for an interview there went unanswered.
So Republican Secretary of State Reagan gets the last word: "There wasn't a million people voting fraudulently in Arizona."
Part 2 Friday: How the election system is kept secure.