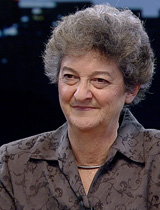 Paula Aboud, 2014. (PHOTO: AZPM Staff)
The Arizona Commission on Judicial Conduct has charged Pima County Justice of the Peace Paula Aboud with violating judicial ethics.
Aboud is accused of allegedly taking a copy of a test and answer key during a new judge orientation session in January.
Her attorney responded to the charges, saying Aboud did take the test but that it was a prank.
The commission is seeking "censure, suspension, or removal from office."
Aboud was elected as a Justice of the Peace in November 2016. No hearing date has been set.
Read the Aboud Statement of Charges
View at Google Docs | Download File
Read the Aboud Response to Charges
View at Google Docs | Download File