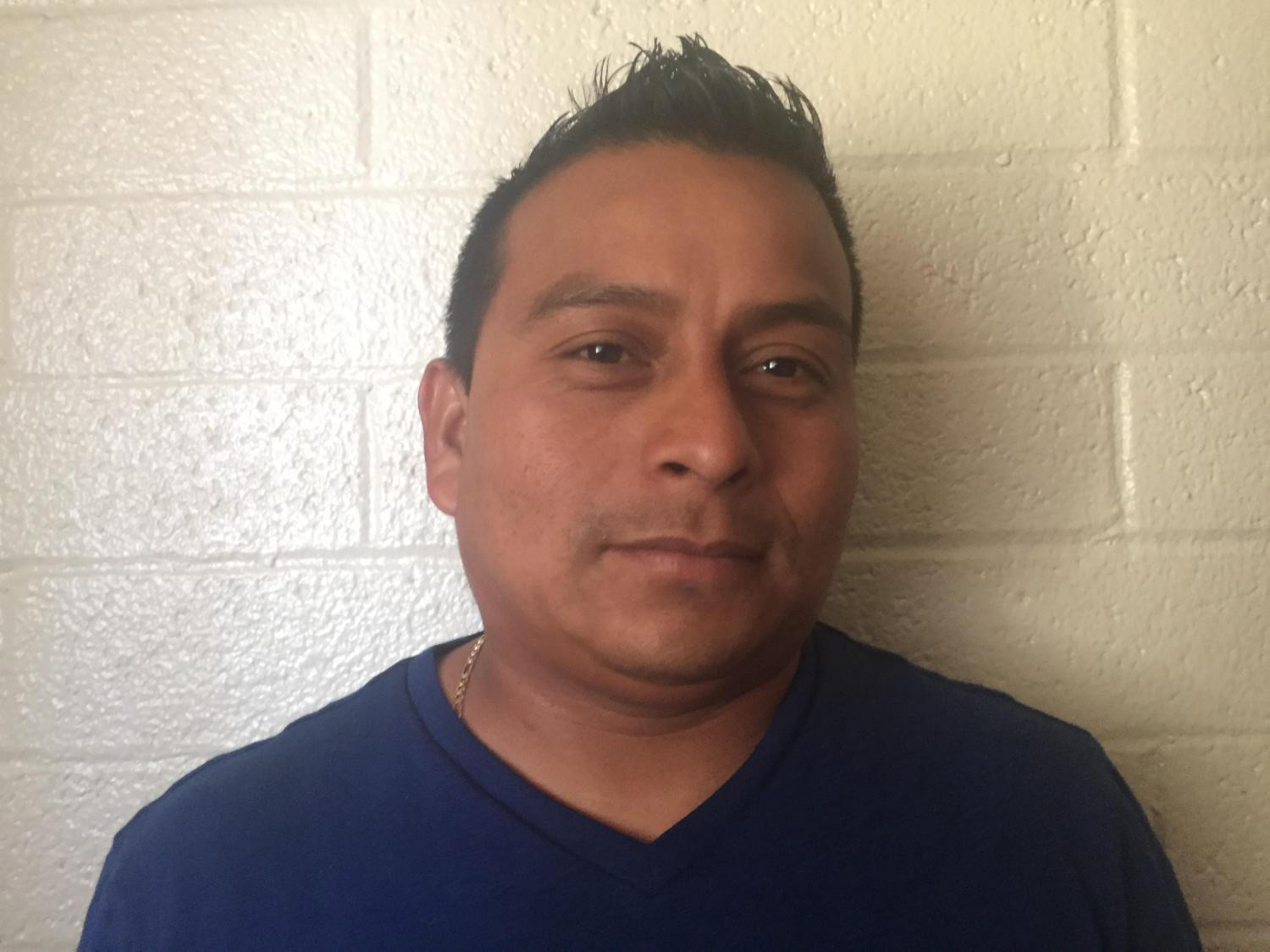 Misael Perez, 35, a roofer, is under a deportation order.
Matthew Casey, KJZZ
Misael Perez felt stifled by the walls of his own apartment on a recent afternoon.
Perez's roommates were all at work, and that's where he would rather have been. Instead, Perez and a friend from church sat at the kitchen table, waiting for Immigration and Customs Enforcement to check in on him.
As the minutes ticked by, his anxiety grew.
"I woke up at 6 this morning and I've been sitting here waiting, waiting, waiting, waiting (and) waiting," Perez said in Spanish.
Despite a deportation order, immigration officials have allowed Perez to live and work here for years. But one of his friends was recently ejected from the country. Perez looked at the new GPS monitoring device around his ankle, knowing he could be next.
Supporters of Perez suspect the home visit may be to arrest him without facing public scrutiny.
Immigration officials declined an interview request. In general, the agency enforces court orders, and laws made by Congress, a spokesperson said.
Perez said the Maricopa County Sheriff's Department detained him in 2009 on suspicion of theft, but he was never charged. His immigration case is now in the 9th Circuit Court of Appeals.
"Well, he has a fear of return (to his country)," said Marisol Angulo, one of Perez's lawyers. "He's a citizen of Guatemala."
Perez's previous lawyer didn't present evidence that his family was threatened after getting deported, Angulo said.
"One of his cousins was actually murdered and dismembered very, very shortly after he was forced to return to Guatemala," Angulo said.
A decision on Perez's appeal to reopen the case will probably come sometime between September and December, Angulo said.
"We're not saying he has a winnable case because that's not for us to decide," Angulo said. "It's for a judge. But he hasn't had a chance to have his day in court."
Perez once spent almost four months in sanctuary at a Phoenix church to avoid deportation. When he got a work permit, he started doing regular check-ins with immigration officials.
It was on his most recent visit that officials ordered Perez to get an ankle bracelet. It doesn't weigh a lot, he said.
"But it's angering," he said. "Because you always have watch out that you don't break it. They told me to take care of it."
The federal immigration agency decides release conditions on a case-by-case basis. The agency uses GPS monitoring as part of the Alternative to Detention program, which lets people stay in the community, even if they might be a flight risk. The program also helps make sure people follow their release conditions, show up to court and comply with deportation orders.
The bracelet is especially uncomfortable when Perez works as a roofer.
"If I worked in an office I probably wouldn't feel it because I wouldn't have to move as much," Perez said.
The bracelet reminded Perez that his friend, Marco Tulio Coss, was deported less than 24 hours before.
Officials had ordered Coss to get an ankle bracelet while agents considered a request to stop deportation, said his lawyer, Ravi Arora. When he went to have it put on, Coss was arrested and deported. Coss's removal order stemmed from a 2009 allegation of driving without a license.
"I talked with him last night," Perez said. "He told me to watch out, to not let ICE cheat me like it did him."
When the immigration agent knocked on the apartment door, Perez quickly opened it. The agent never stepped inside.
Instead, Perez and the agent had a polite conversation that lasted less than 90 seconds. Then the agent left Perez to go about his day.
But the reassurance Perez felt could be short-lived. He now has to check in with the agency twice a week. Since he has a deportation order, it's possible he could be removed from the country before the 9th Circuit rules on his appeal.