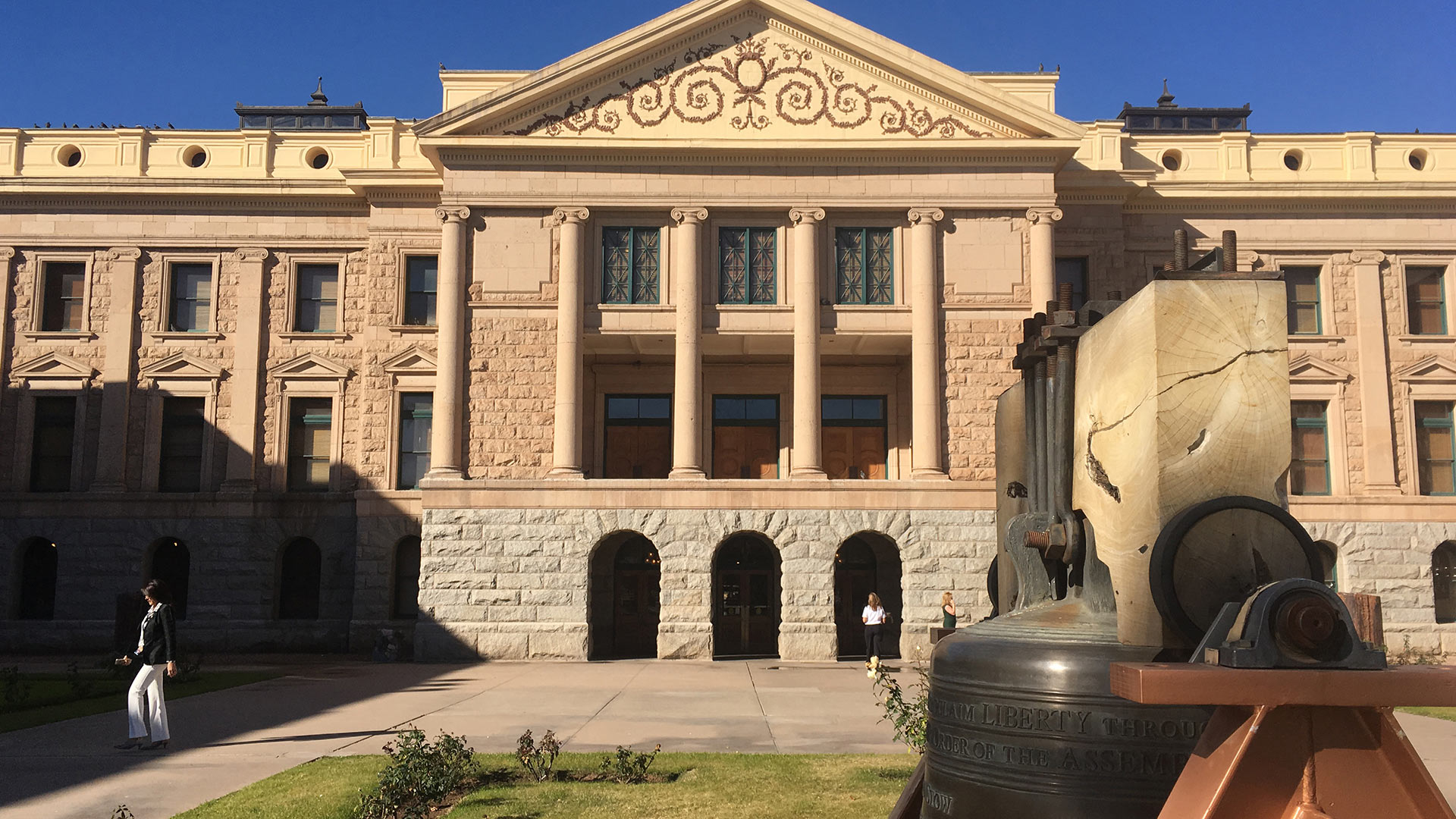 The Arizona Capitol Building. January 2017
Christopher Conover, AZPM
"It is like drinking from the fire hose."
That is how Rep. Todd Clodfelter, R-Tucson, described all he had to learn in the days leading up to the 2017 legislative session.

Clodfelter and his seatmate, Rep. Kirsten Engle, D-Tucson, were noteworthy members during this legislative session. Not only were they both freshmen, but they also represented different parties.
After more than 120 days in session, Clodfelter said the feeling of drinking from the fire hose did subside.
"It slowed down tremendously," he said. "Everything really happens in the first few weeks."
Engle is now back at work full time as a law professor at the University of Arizona. She said the Legislature lived up to her expectations.
"It was tremendously exciting to be part of it. I enjoyed being up there, being able to speak out on the issues I was elected to represent," she said.
Both admit the long hours took a toll, asking if balancing home, work, and lawmaking was worth it.
"One week I don't think we got off the House floor until 11:30 at night - and coming back very late and looking at that I was going to have to teach the next morning. those thoughts went through my head," said Engle. "But I have to say, every time I've come back to the district and talk to people and heard them say, 'Hey, you're fighting for us up there. Keep it up,' That really is a shot in the arm"
"It is very draining to try and be enthusiastic about everybody's issue and everybody's conversation, especially after you've been doing it all day and you go into the evening. And you think you've got the evening free and you start getting phone calls. But that's the job and I'm willing to do it," said Clodfelter.
The Legislature can be a big place, and friends are important. Clodfelter turned to an old tactic to meet people: food. He has an industrial popcorn machine in his office.
"Every Tuesday and Thursday we would make popcorn and send out an email to all the members and the staff to come down and enjoy some fresh popcorn," explained Clodfelter. "Initially, some of the Democrats would walk by my office and peek in, and they were a little reluctant. But as things progressed they decided to come in and enjoy the popcorn as well."
A little salt and butter made for better relationships across the political aisle. Representatives Engle and Clodfelter held a number of town halls together with their Senate seatmate, Democratic Sen. David Bradley of Tucson, when the session was underway - a practice they plan to continue.