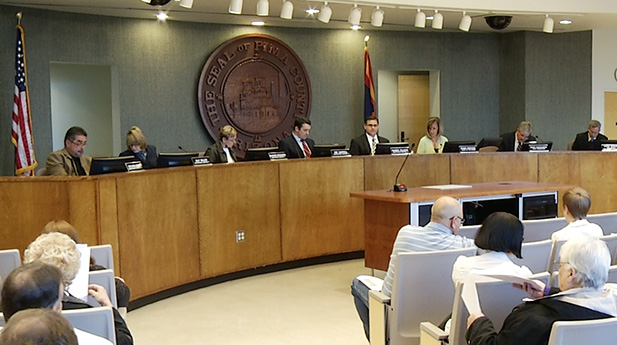 Pima County Board of Supervisors at a meeting in early April 2015.
Pima County property owners will pay a higher tax rate under the $1.26 billion budget the Board of Supervisors tentatively adopted Tuesday.
The tax rate will rise 14 cents, meaning $18.47 a year more for the median-assessed house, county officials calculated. That increase will help raise nearly $20 million to be spent on street and road maintenance in the county and its municipalities.
County Administrator Chuck Huckelberry proposed the allocation of 25 cents of the property tax rate to street and road maintenance for five years, and said his projections show it can be offset by cuts elsewhere in all but the first year. That is why the rate is up 14 cents.
Tuesday's tentative approval of the budget means it cannot be increased before the final vote on it, scheduled for June 20.