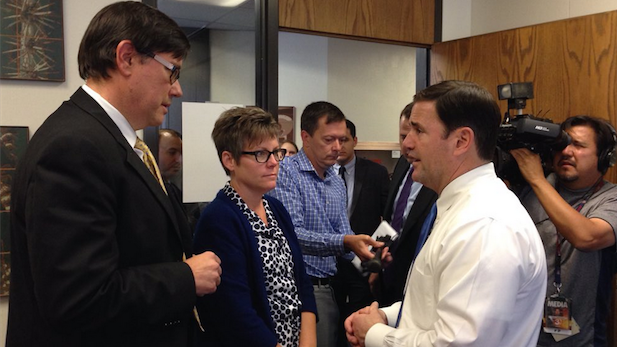 State Sen. Steve Farley, left, and Gov. Doug Ducey Thursday, Oct. 29, in Farley's Senate office.

Courtesy @SteveFarleyAZ
Democratic state Sen. Steve Farley of Tucson announced his candidacy for governor Monday.
Farley, a Tucsonan who is assistant minority leader, will seek his party's nomination so he can take on Republican Gov. Doug Ducey. Ducey has not announced if he will seek a second term.
Farley has been critical of Ducey, and the two have clashed on policy, including one face-to-face confrontation in the hallway of the Senate building in 2015 when the governor was seeking votes for his proposal to increase the payout from the state land trust fund to give to schools.
Farley told The Associated Press Monday that Republican cuts to education funding have left the state at or near the bottom of public funding for schools and its teachers among the lowest-paid in the nation.
"We have the money. We've just been choosing to waste it on corporate tax cuts — and that's something that Gov. Ducey has made worse," Farley said. "Just this year he approved another $107 million in corporate tax cuts."
Farley also said he can boost education spending by a large amount without major tax increases.
"Our sales tax loopholes are now up to $13.7 billion," he said. "If we're able to identify $2 billion of those that are purely corporate pork, and we're able to get rid of them, we can lower our sales tax rate by a penny while increasing education funding by a billion dollars a year."
Arizona State University professor David Garcia and political unknown Noah Dyer also are in the race for the Democratic nomination for governor.