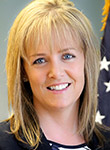 Pima County Superior Court Judge Kellie Johnson. (PHOTO: Courtesy UA Law)
Gov. Doug Ducey appointed Kellie Johnson to the Pima County Superior Court bench Monday.
Johnson is currently the chief criminal deputy of the Pima County Attorney's Office. She spent more than 20 years as a prosecutor.
Johnson is also a part-time professor of practice at the University of Arizona College of Law.
She replaces Judge K.C. Stanford, who retired in April.