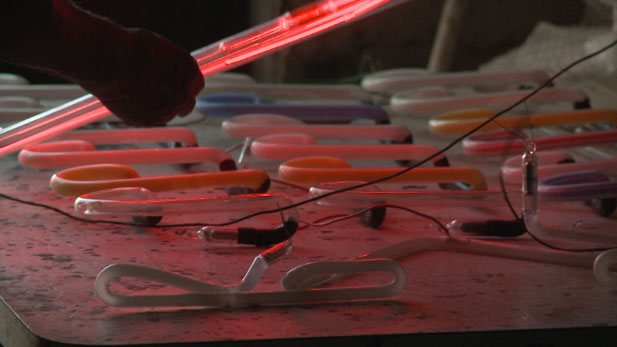 Colorful neon signs once played a major role in Tucson's urban landscape. Now several groups have come together in hopes of preserving these historic pieces of neon art. (PHOTO: AZPM)
There are many neon signs located around the Tucson area that are representative of a bygone era. Clustered along Miracle Mile, once the main roadway in and out of Tucson, some signs are in need of repair. Dirk Arnold is now part of a group that is working to preserve the colorful iconic signs.

Juan De La Cruz heats and bends the delicate glass tubes that will become the glowing letters of a new neon sign. He says there are modern machines that make this process easier, but he likes to work with equipment that he made himself.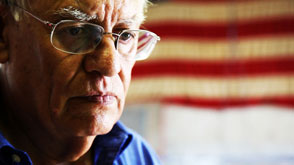 De La Cruz seems an alchemist of sorts, mixing gasses stored in glass bubbles, and injecting them into his handmade creations, while holding a small tube in his mouth to control pressure. There's also a good amount of hot flames shooting in various angles around his shop to melt the glass. 

He says he uses red and blue as base-colors, and then introduces various combinations of other elements and chemicals to create an infinite array of colors. 


De La Cruz makes neon signs in Tucson and he says that a lot has changed since he began in 1965. Gone are the glory-days when big neon signs vied for attention along major business districts, and he has seen his business dwindle to a marginally sustainable endeavor. "It's not the same, and we don't see those big signs going up any more," he says.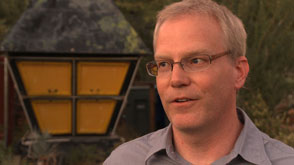 Dirk Arnold is an architect by training, and a historic preservationist. He says neon signs once had a prominent place in Tucson's urban landscape. "Many people drive by and say 'oh, a sign for a business,' but I see it and say 'oh, 


an old sign that represents a piece of Tucson's history that aught to be preserved.'"
Arnold has taken photos of many of the neon signs local residents might be familiar with along Miracle Mile, Drachman, and North Oracle.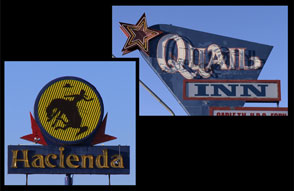 He's become known for a line of refrigerator magnets based on the iconic images, as a result. 

In connection with a roadway improvement along North Oracle, and Drachman, Arnold designed a public art project at the south end of what used to be Miracle Mile.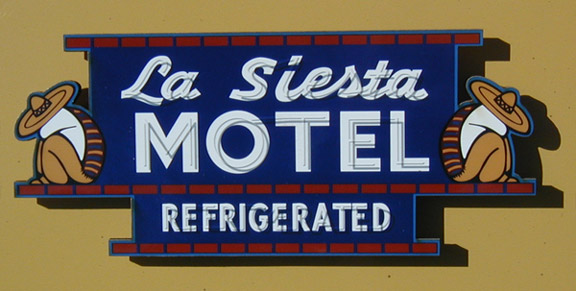 "I call that the Gateway Sahuaro," he says. The idea for the project came when he saw the beloved "Ye Old Lantern" sign being brought down, and decided that something needed to take the place of the iconic neon sign.
"People don't want them back up," says Steve Gaspard. He's with Cook and Company, the company that built the Gateway Sauguaro. He says that some people feel the old signs are too big and "gaudy." He feels they are "works of art," and representative of Tucson's heritage.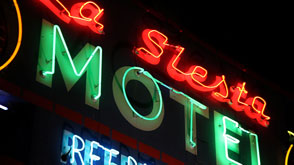 Tucson is an old town, and unfortunately many of the Neon signs that dot the old roads leading in and out of the city are in various stages of disrepair.

Dirk Arnold is now part of a group that's trying to change current sign codes to allow restoration of some of these historic signs. He points out that many of the current signs can not be brought down for restorations because they then would not be able to be replaced to their locations. "The current sign codes would not allow it," he says. 

Preserving the signs as an important part of Tucson's history is important to Juan De La Cruz as well. Currently, outside his shop, on Stone Avenue, one remnant of the neon past awaits an opportunity to come back to life. It's the old Magic Carpet Miniature Golf neon sign that was recently brought down from it's perch.

De la Cruz says the shops that created these signs are no longer around, but they were famous in those days. "The signs are now very old, and sure they can be remodeled but they will always be classics," he says.