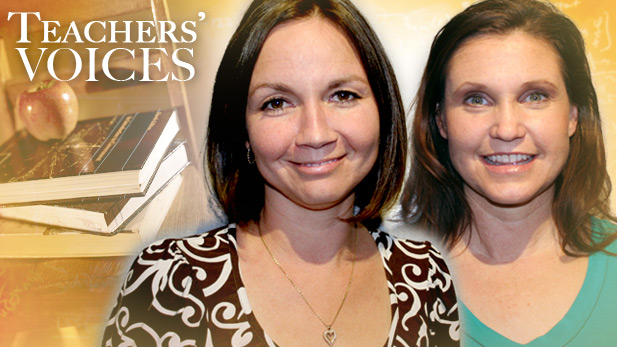 Sunni Lopez (left), pre-kindergarten teacher at Ocotillo Early Learning Center, and Caroline Greene (right), kindergarten teacher at Los Ranchitos Elementary School
Amid the debate about cuts to early childhood education and the state budget crisis, it is easy to lose sight of the significant needs that programs like First Things First meet on a daily basis.
Caroline Greene and Sunni Lopez are two teachers who face the harsh realities of providing security and opportunities for learning for some of the most vulnerable members of our community.
For the past 10 years, Greene has been a kindergarten teacher at Los Ranchitos Elementary School. Lopez is in her first year at Ocotillo Early Learning Center, but has been teaching in the Sunnyside School District for the past thirteen.
Both are grateful to be working in a district that places such an emphasis on early childhood education programs and recognizes the unique needs of the community they are serving.
The Sunnyside School District still provides all day kindergarten.
"Learning and brain development occur so early in life. It's (early childhood education) a preventative measure and we know that children at that age can do amazing things," Lopez said.
The benefits of early education have been well-established.
Greene is quick to note that, on the first day of school, there is an obvious difference between those children that have received some form of pre-kindergarten training and those that have not.
"I rely so much on you and everything that you do at Ocotillo in preparing these little guys. By the time that they come to me, they're ready to come to me," Greene said.
Greene and Lopez both attended Sunnyside schools and are very familiar with the history and demographics of the area.
On this week's Teachers' Voices, hear them talk about meeting the educational and emotional needs of their students.
To hear more stories, visit the Teachers' Voices archive.
(Funding for the production of Teachers' Voices is provided by Wells Fargo and the University of Arizona College of Education. The series is produced by Matt Felix for Arizona Spotlight.)