Hear about two women who are closing the gap between innovations in science curriculum and the field.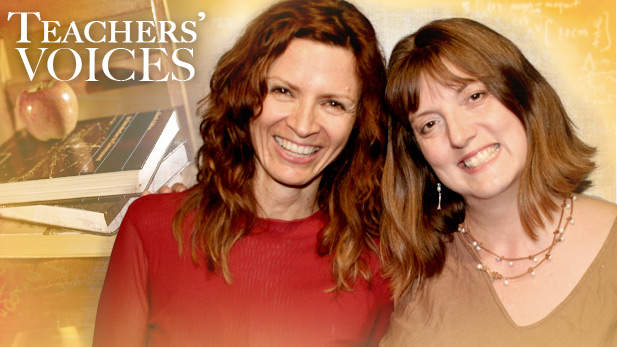 _Jane Poynter, author of Champions for Change and Biosphere II crew member (left), and Elisabeth Roberts, a University of Arizona PhD candidate in the College of Education _
Jane Poynter's latest book,Champions for Change, takes a look at the environmental impact of global warming through the personal stories of professional athletes. Who better to tell the story of melting glaciers than the world-class adventurers who climb them year after year?
These tales of personal drama are the backdrop for the science that Poynter is actually trying to relay.
The response by students to these stories is what encouraged Poynter into developing a middle school workbook based on her book.
"Many of the students actually wanted to get involved in these athletes' endeavors ... That was really one of the triggers that said, 'Maybe this can work in the classroom, maybe this really does speak to kids where perhaps some of them wouldn't engage in others ways of thinking about science,'" Poynter said.
The celebrity draw of professional athletes for middle school students is a bit obvious but something else surprised Poynter.
"What I didn't expect was to find them equally or perhaps even more engaged in the fact that these people were more than athletes. They came alive for them as individuals and people who are active in their own environment and communities," Poynter said.
Poynter is developing this new curriculum with Elisabeth Roberts, a science educator for over 20 years and currently a University of Arizona PhD student in the College of Education. Her research focuses on the development of innovative science curriculum.
"I very much look forward to sitting down with students and watching them leaf through the book and start to ask questions because as a researcher that's my first indication that they're hooked, that they're starting to ask questions, they're starting to get intrigued," Roberts said.
To hear more stories, visit the Teachers' Voices archive.
(Funding for the production of Teachers' Voices is provided by Wells Fargo and the University of Arizona College of Education. The series is produced by Matt Felix for Arizona Spotlight.)