The next Arizona Senate President will be Russell Pearce. Republicans chose him Wednesday in a closed-door caucus to decide leadership in both legislative chambers. Pearce will preside over the Senate, and hold a considerable amount of power over legislation, scheduling and committees. Pearce was victorious over two rivals for the presidency. He's curently the chairman of the Appropriations Committee. House Republicans also voted to keep Mesa Republican Kirk Adams as House speaker.
The newly selected leaders will enter office in January, at the start of the 2011 regular legislative session.
Pearce was the primary sponsor of Senate Bill 1070. He also sponsored a 2007 law that restricts businesses from knowingly hiring illegal immigrants. Both laws are currently tied up with court challenges.
On Tuesday, Republicans added three more seats to their majority in the Arizona Senate. They now have 21 seats in the 30 member body. In the 60-member House, the GOP added two seats to their current 35-seat majority. That could make Republican legislation almost veto-proof, particularly with Republican Governor Jan Brewer winning a full term Tuesday.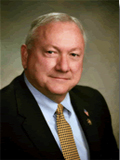 Arizona's new Senate President, Russell Pearce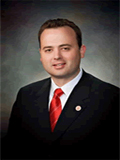 Rep. Kirk Adams was chosen again to be House speaker.