One of the world's greatest dancers, Savion Glover's new show "Bare Soundz" explores the musical side of tappin' feet.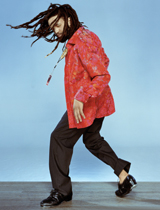 What's it like to be considered the future of an art form at age 12?
Savion Glover (now age 36) burst onto the tap dancing scene at a time when there seemed to be few new proponents for the dance, and rapidly earned the respect of greats like Gregory Hines, Jimmy Slyde, "Sandman" Simms, and the legendary Sammy Davis, Jr.

Constantly evolving and developing his approach, Savion is one of those rare artists who can look to the future without ever forgetting the past. His reverence and appreciation for his dancing mentors comes through in everything he does, yet he continues to move tap forward with every step he takes.
UApresents brings Savion Glover to Tucson for one night only... Bare Soundz is this Saturday, November 13th, at 8pm at Centennial Hall.
UApresents is an underwriter of Arizona Public Media.