"Caregiver support is at the heart of my Administration's commitment to assisting our Nation's families." - Barack Obama, November 2009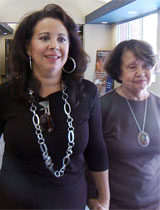 Selma Brown cares for her mother, Gladys Welty.
We meet up with Selma Brown in the kitchen of her eastside home. She and her mother, Gladys Welty, make lunch together. Less than a year ago, Brown led a routine life of work, leisure and domestic activity. That all changed when her mother moved in to stay. Diagnosed with Alzheimer's disease, Welty now needs constant supervision.
"It was a little bit stressful at the beginning," says Brown. "I was depressed. What am I going to do?"
After cleaning the kitchen, Brown helps her mother into the car and backs out of the garage. She's worked out a plan to keep her mother safe and her real estate career alive by taking her mother to Handmaker Adult Day care. And she turned to the Desert Southwest Chapter of the Alzheimer's Association for support and guidance.
"The most challenging is to be patient," Brown explains. "I learn how to be patient now, because she asks the same thing, what day is it , what time is it. So after a while we just write it down."
More than 35 million people worldwide suffer from more than 80 types of memory loss, five million in the U.S., and their numbers will double by the year 2030. Felipe Jacome, Southern Arizona Regional Director of the Alzheimer's Association, says Brown represents the majority of the people the agency serves.
"A lot of people are dealing with this quietly, and because they're so good at caring for their loved one, they're not going to the dentist and the doctor, they're not taking care of themselves, they're really getting stressed and cholesterol levels build up in the bloodstream. There's all sorts of things that are happening that are not good for them," Jacome says.
When she's not working or caring for her mother, Brown takes time for physical exercise. That's one coping mechanism counselors from the Alzheimer's Association and the Pima Council on Aging recommend for dealing with stress. For years the two agenices have supported the aging population and those who care for them, but new research has emerged to classify the condition that accompanies this condition: caregiver syndrome. Arizona State University researcher Dr. David Coon has made this his life's work: researching the best techniques to help the caregiver population, whose stress levels often cause severe conditions that make them likely to predecease the ones they care for.
"So many people care for so many years and they do that with sometimes very little information or support," Coon says. "We have to find ways to sustain these individuals because we can't afford it all the way across the board. We have to figure out ways to do it in a cost effective manner."
Working with the Alzheimer's Association and the Pima Council on Aging, Coon is refining a program called CarePro that instructs caregivers in how to cope. The Pima County program, one of 12 pilot programs in the country, seeks to develop strategies applicable to chronic illness across the country.
"We teach basic skills and we really apply it to the caregiving situation," Coon explains. "In this case, with this CarePro, we're tailoring it to dementia. But these are really skills for living."
PCOA provides transportation and respite for those caregivers who wish to attend the sessions, but Patricia Dorgan, director of services for PCOA, says seniors and their families find year-round support at the agency.
"They call our office and we can consult them on resources and services available and link them up with services in the community," Dorgan says. "Demand is growing. Unfortunately our resources aren't growing, but we do have a greater demand."
It doesn't take a math genius to figure out the value of the contributions of family caregivers, who spend an average of 40 hours per week caring for a loved one. Family caregivers provide the overwhelming majority of long term care services in the U.S. The service they provide for "free" is estimated to be worth $306 billion a year. That is almost twice as much as we spend on home care and nursing home services. Those statistics prompted the Veterans Administration to take action, and initiated the VA respite program in November of 2008.

"More and more people are trying to find alternatives to hospitalization and long term care," says Mandy Martell, Veterans Administration Volunteer Respite Coordinator. "They're trying to keep people home as long as possible in an environment where they can thrive, to enhance their quality of life."
The Pima County VA relies on 1500 volunteers, who donate their time to visit those who need assistance.
Not just an emotional issue, caregiving costs American businesses as much as $34 billion each year due to employees' need to take time to care for loved ones.
In Arizona, nearly 550,000 family caregivers contribute 585 million hours of caregiveing each year, which means that most likely we all know someone, friends and families who need our support. Coon, who helped care for his grandmother suffering from Alzheimer's, wants that message to resonate.
"You may not want your neighbor to do some hands-on care, but can they mow the lawn, get groceries, make a meal for you that helps you? And that is the ethic of care that we need in our society. That's what I'm dying to say," Coon says.
Family caregivers, 24,000 of them in Pima County, form the backbone of long term care. Though no cure exists for the diseases of memory loss, research progresses. While medical advances extend the promise of long, healthy lives, charitability and compassion remain age old values that help make those lives a little easier to live.

For more caregiving stories, visit our National Family Caregivers Month page.