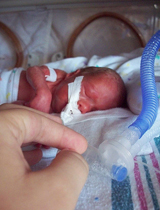 The March of Dimes
2010 Premature Birth Report Card
, gives Arizona a D, pointing out that 12.9% of babies born in the state were born too early. According to the March of Dimes, premature birth is the top cause of infant mortality.
Officials with the March of Dimes in Arizona say two contributing factors to premature births in the state are of particular concern. First, they say the number of women who smoke while they are pregnant is on the rise. Right now the report says 14.3% of pregnant women in Arizona smoke. The second concern is folic acid. The experts say if a pregnant woman increases the amount of folic acid in her diet she greatly reduces the chance of certain birth defects. Hispanic and Native American women in Arizona are of particular concern when it comes to decreased levels of dietary folic acid, the organization says. The March of Dimes is increasing its multi-lingual outreach in hopes of educating more women about the importance of folic acid.

Even though a D grade is nothing to celebrate, officials with the March of Dimes say it is not as bad as it sounds. The national average was a D this year, and no state received either and A or B.
2010 Arizona Report Card
2010 March of Dimes report card: View at Google Docs | Download File
2009 Arizona Report Card
2009 March of Dimes report card: View at Google Docs | Download File