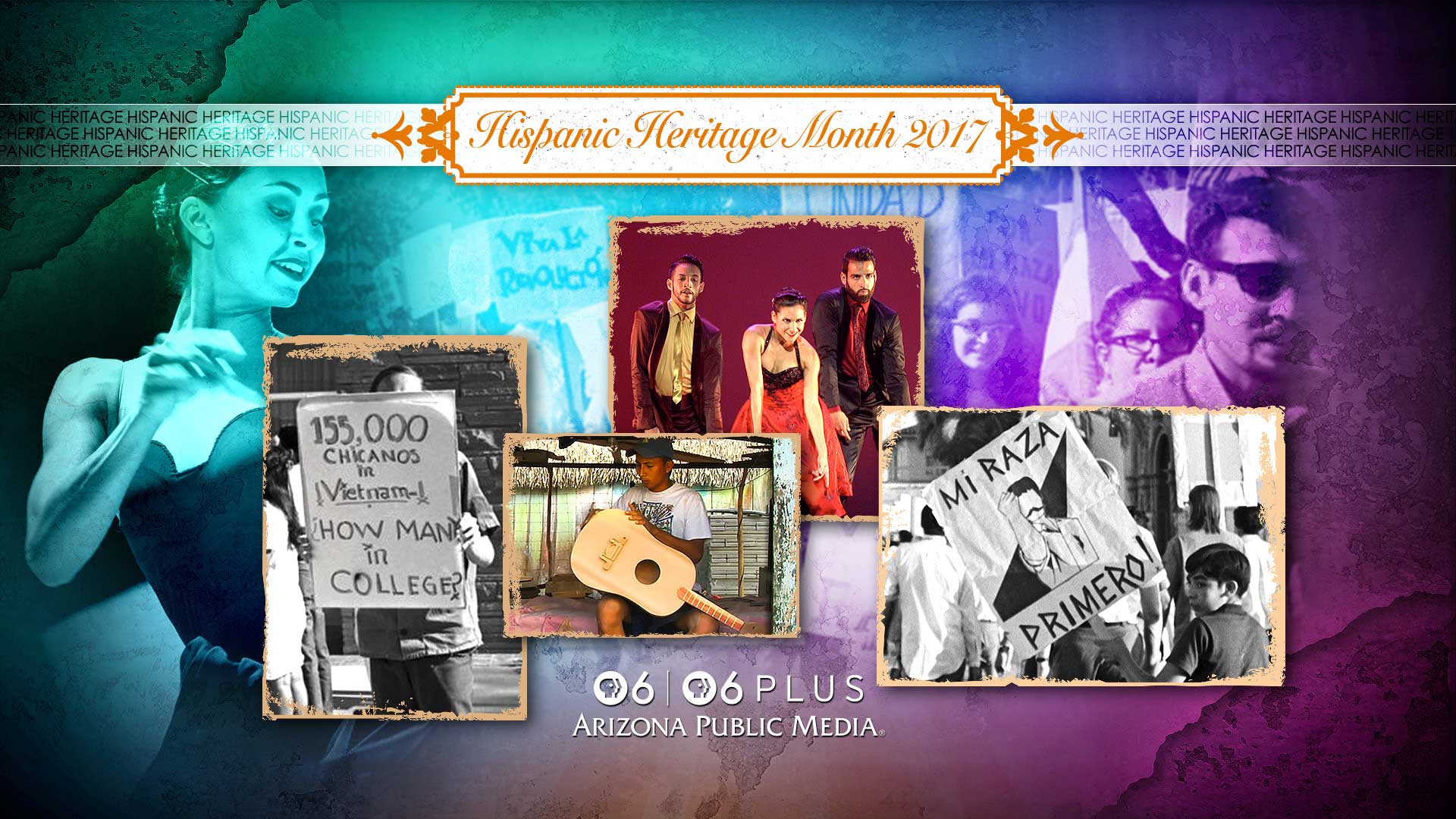 AZPM celebrates Hispanic Heritage Month with special programming, September 15-October 15.
From September 15 - October 15, Arizona Public Media celebrates Hispanic Heritage by featuring a special programming lineup on PBS 6 and PBS 6 PLUS. Viewers have an opportunity to explore the vibrant history as well as the political, social and cultural contributions of Hispanics to society throughout generations.
Television highlights include:
RED denotes "new" program.
Full schedules are available online.
List includes first air only. See schedule for repeats tv.azpm.org.

In Our Son's Name
(PBS 6 PLUS: Monday, September 11 at 12pm)
Phyllis and Orlando Rodriguez's lives shatter with the death of their son, Greg, who dies with thousands of others at the World Trade Center on September 11, 2001. Instead of seeking revenge, the grieving couple begins a journey of reconciliation that transforms their lives.

Bringing it Home #112
(PBS 6 PLUS: Friday, September 15 at 830am)
Join Laura McIntosh and guest Chef Carolen Barrett as she takes us to Mexico to uncover a taste of the culture, adventure, and food.

Pati's Mexican Table Season 4
(PBS 6: Starts Friday, September 15 at 1130am)
PATI'S MEXICAN TABLE brings authentic Mexican flavors, colors, textures, and warmth into American kitchens.

Richard Bang's South America: Quest for Wonder
(PBS 6 PLUS: Saturday, September 16 at 10am)
Follow Richard Bangs as he seeks out the continent's most revered sites and natural wonders - from its bone-rattling waterfalls to its ancient, sacred citadels.

Ballet Hispanico
(PBS 6: Sunday, September 17 at 2pm)
Enjoy two iconic works from the country's premier Latino dance company: CARMEN.maquia, a modern take on Bizet's passionate opera, and Club Havana, a virtuosic re-imagining of a sizzling nightclub by Cuban-born choreographer Pedro Ruiz.

POV #2806: Tea Time
(PBS 6 PLUS: Sunday, September 17 at 3pm)
Observe how a routine of tea and pastries helped five Chilean women commemorate life's joys and cope with infidelity, illness, and death.

Head of Joaquin Murrieta
(PBS 6: Sunday, September 17 at 330pm)
For over a decade filmmaker John J. Valadez searched for the remains of Joaquin Murrieta, a legendary Mexican outlaw who blazed a trail of revenge across California until he was caught and decapitated in the summer of 1853. A hundred and sixty-two years later Valadez believes he has the head.

Buen Provecho! Florida's Spanish Flavor
(PBS 6 PLUS: Sunday, September 24 at 12pm)
The one-hour documentary explores Florida's Spanish roots through its cuisine while blending historical narrative with delicious recipes and vibrant locations.

Craft in America #901: Borders
(PBS 6 PLUS: Saturday, September 29 at 9pm)
Explore the relationships and influences Mexican and American craft artists have on each other and on our cultures. The program features traditional weaving and the creation of paper jewelry.

Craft in America #902: Neighbors
(PBS 6 PLUS: Saturday, September 29 at 10pm)
Travel to and from the U.S. and Mexico to explore the people, history, traditions, and crafts, noting how aesthetics cross from one country to another and back again in an organic and ongoing cultural exchange.

Lost Pueblo Village, A Time Team Presentation
(PBS 6 PLUS: Sunday, September 24 at 3pm)
TIME TEAM AMERICA uses airborne 3D mapping and ground-penetrating radar to explore the extent of a Basket Maker III community that thrived 1400-1500 years ago.

Independent Lens #1704: East of Salinas
(PBS 6 PLUS: Monday, September 25 at 230am)
East of Salinas is a story about immigration, childhood, and circumstance. With little support at home, Salinas, California third grader Jose Ansaldo often turns to his teacher, Oscar Ramos, once a migrant farm kid himself.

POV #2812: Don't Tell Anyone
(PBS 6 PLUS: Monday, September 25 at 330am)
Meet immigrant activist Angy Rivera, the country's only advice columnist for undocumented youth. In a community where silence, is often seen as necessary for survival, she steps out of the shadows to share her own parallel experiences of being undocumented and sexually abused.

Barrios and Barriers: The Tucson Civil Rights Era
(PBS 6: Friday, September 29 at 10pm)
This documentary explores Tucson's Civil Rights struggle during the mid-twentieth century, telling stories of discrimination through a collection of personal experiences and triumphs drawn from the lives of several Tucson residents. WATCH ONLINE

Richard Bang's w/Purpose Costa Rica: Quest for Pura Vida
(PBS 6 PLUS: September 30 at 10am)
Richard Bangs explores the ecological nexus of North and South America - Costa Rica. Costa Rica is home to endless natural wonders: wild rivers, fire-spewing volcanoes, verdant rainforests and more species of animals and plants than found in the United States and Canada combined.

Willie Velasquez: Your Vote is Your Voice
(PBS 6 PLUS: Saturday, September 30 at 2pm)
Meet the charismatic pioneering activist whose rallying cry of "su voto es su voz" (your vote is your voice) started a grassroots movement that transformed the nation's political landscape and paved the way for the growing power of the Latino vote.

American Masters #2902: Pedro E. Guerrero, A Photographer's Journey
(PBS 6 PLUS: Saturday, September 30 at 3pm)
Discover the life and work of Mexican-American photographer Pedro E. Guerrero, who collaborated with Frank Lloyd Wright and sculptors Alexander Calder and Louise Nevelson. A co-presentation of VOCES and AMERICAN MASTERS.


PBS 6 (KUAT 6.1 & 27.1)

Pati's Mexican Table, Season 4 and 5 Sep 15 at 1130am (weekdays)
Ballet Hispanico Sep 17 at 2pm
The Head of Joaquin Murrieta Sep 17 at 330pm
Barrios and Barriers Sep 29 at 10pm

PBS 6 PLUS (KUAT 6.3 & 27.3)

In Our Son's Name Sep 11 at 12pm
Bringing it Home #112: Fresh from Mexico Sep 15 at 830am
Richard Bang's South America: Quest for Wonder Sep 16 at 10am
POV #2806: Tea Time Sep 17 at 3pm
Ballet Hispanico Sep 17 at 4pm
Buen Provecho! Florida's Spanish Flavor Sep 24 at 12pm
Lost Pueblo Village, A Time Team Presentation Sep 24 at 3pm
Independent Lens #1704: East of Salinas Sep 25 at 230am
POV #2812: Don't Tell Anyone Sep 25 at 330am
Richard Bang's w/Purpose Costa Rica: Quest for Pura Vida Sep 30 at 10am
Willie Velasquez: Your Vote is Your Voice Sep 30 at 2pm
American Masters #2902: Pedro E. Gerrero: A Photographer's Journey Sep 30 at 3pm
Craft in America #901: Borders Sep 30 at 9pm
Craft in America #902: Neighbors Sep 30 at 10pm