If your Thanksgiving dinner includes fried turkey, then you know the oily mess left behind when the bird comes out of the fryer. Don't know what to do with all that oil? The Clean Cities Coalition says it is ready to help. On the day after Thanksgiving, the coalition is holding a cooking oil collection. Colleen Crowninshield, Pima County's Clean Cities Coordinator, says the used oil will be turned into biodiesel.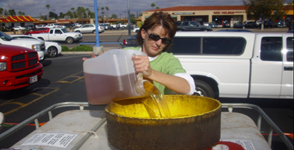 PHOTO: AZPM Staff
Fuel, fresh from the turkey fryer.
Last year, the coalition collected more than 2500 pounds of used cooking oil on the day after Thanksgiving.

Cooking Oil Collection Sites
East Side
O'Reilly Chevrolet
6160 E. Broadway Blvd

South
City of Tucson Water Plan #2
1102 W. Irvington Rd

Northwest
Pima County Industrial Wastewater Control
5025 W. Ina Rd
¼ mile west of I-10

Sam Hughes
Vacant Lot NE corner of Campbell and 6th St

Town of Sahuarita Park & Ride
375 Sahuarita Center Way