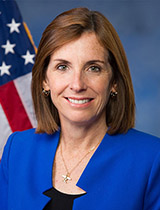 U.S. Rep. Martha McSally. (PHOTO: Via congress.gov)
U.S. Rep. Martha McSally asked small businesses in Southern Arizona for their reaction to congressional tax reform proposals that would set the federal tax rate at 25 percent for small businesses.
McSally, along with the head of the U.S. Small Business Administration, Linda McMahon, discussed the current plan with business owners Friday in Tucson.
McSally said the Republican tax proposal would give small-business owners additional capital in order to expand their ability "to be able to invest in land and in people in the workforce," she said.
The proposal is making its way through the U.S. House.
During the roundtable discussion McSally said she opposed a Senate proposal to delay corporate tax cuts.
About 50 people showed up outside McSally's meeting to protest the proposed tax reforms. They held signs saying it would only benefit the rich, and urged McSally to oppose the tax reform bill.
After the meeting with small-business owners, McSally said she couldn't answer questions about whether she is running for U.S. Senate, citing House rules that her from doing so during official business.
Last week, Rep. David Schweikert said McSally told him and others in the Arizona delegation that she would run for the Senate seat left open in 2018 by Jeff Flake, who will not be seeking re-election. McSally has yet to confirm or deny Schweikert's comments publicly or respond to requests to do so.