On this week's Teachers Voices, hear how digital media is re-defining community storytelling in the Sunnyside School District.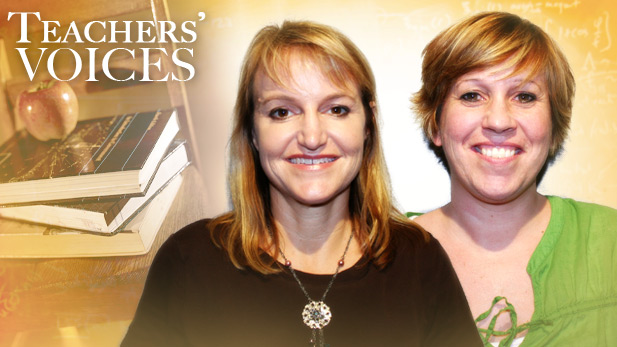 Alisa Leckie (left) and Lori Hill (right), both Language Arts teachers at Billy Lane Lauffer Middle School
It's no secret that digital media has fundamentally changed the way people can tell and share their stories. But despite technological advances, its the innate desire and need to share a story that remains at the core of all self-expression.
That journey of self-discovery is at the heart of a digital storytelling project in the Sunnyside Unified School District.
The Sunnyside Community Stories Projects allows middle and high school students to combine research, writing, and digital media skills to tell their own stories, and help create their own identities, by producing short documentaries about their community. Funded by grants from the USA Funds, the long term goal of the project is to increase high school and college graduation numbers by preparing students with a better sense of their own history, culture and identity.
Alisa Leckie and Lori Hill, Reading and Language Arts, as well as, English Language Development teachers, at Billy Lane Lauffer Middle School, have both experienced the challenges and rewards of incorporating digital media with traditional storytelling. Although some of the technology was new to both, the process of working one-on-one with a student to construct their own story provided a new understanding of who their students were and where they came from. The most enjoyable part of the process for Hill was mining her students' family photographs for story ideas.
"It opened up some doors...I never forgot each individual story. So, when they were getting started I would be able to tell them, 'OK, remember this is what we talked about so let's stay focused in this area' and that helped them get going," Hill said.
But acquiring digital production skills was only one aspect of the project. It aslo provided an outlet for young teenagers to express ideas and emotions that aren't always available in traditional classes.
"Adolescence is such an ideal time in the students lives to begin thinking about that and to really put language to all that commotion that is going on inside their heads," Leckie said.
Hill added, "That is another thing that students get out of this. That therapeautic sense that they get when they tell a story that they've held in for so long."
In this week's Teachers' Voices listen to Alisa Leckie and Lori Hill share their experience in building a sense of community pride through digital storytelling.
For a link to view student digital stories, click here: Sunnyside Community Stories Projects.
View more stories on the Teachers Voices page.