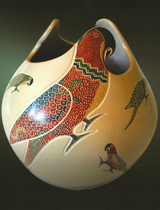 Traditional Mata Ortiz pottery has become sought-after art.
Less than a hundred miles south of the border, in the state of Chihuahua, a small village has revived its ancient pottery tradition and turned it into sought-after art--and big business.
In a new book, The Artistry and History of Mata Ortiz, local authors John Bezy, a retired geologist, and Stuart Scott, a retired archaeologist, have documented the history of Mata Ortiz pottery. They join the studio to share the community's story and discuss its unique heritage of self-taught pottery.
Two Mexican potters visit the studio. (VIDEO: AZPM)