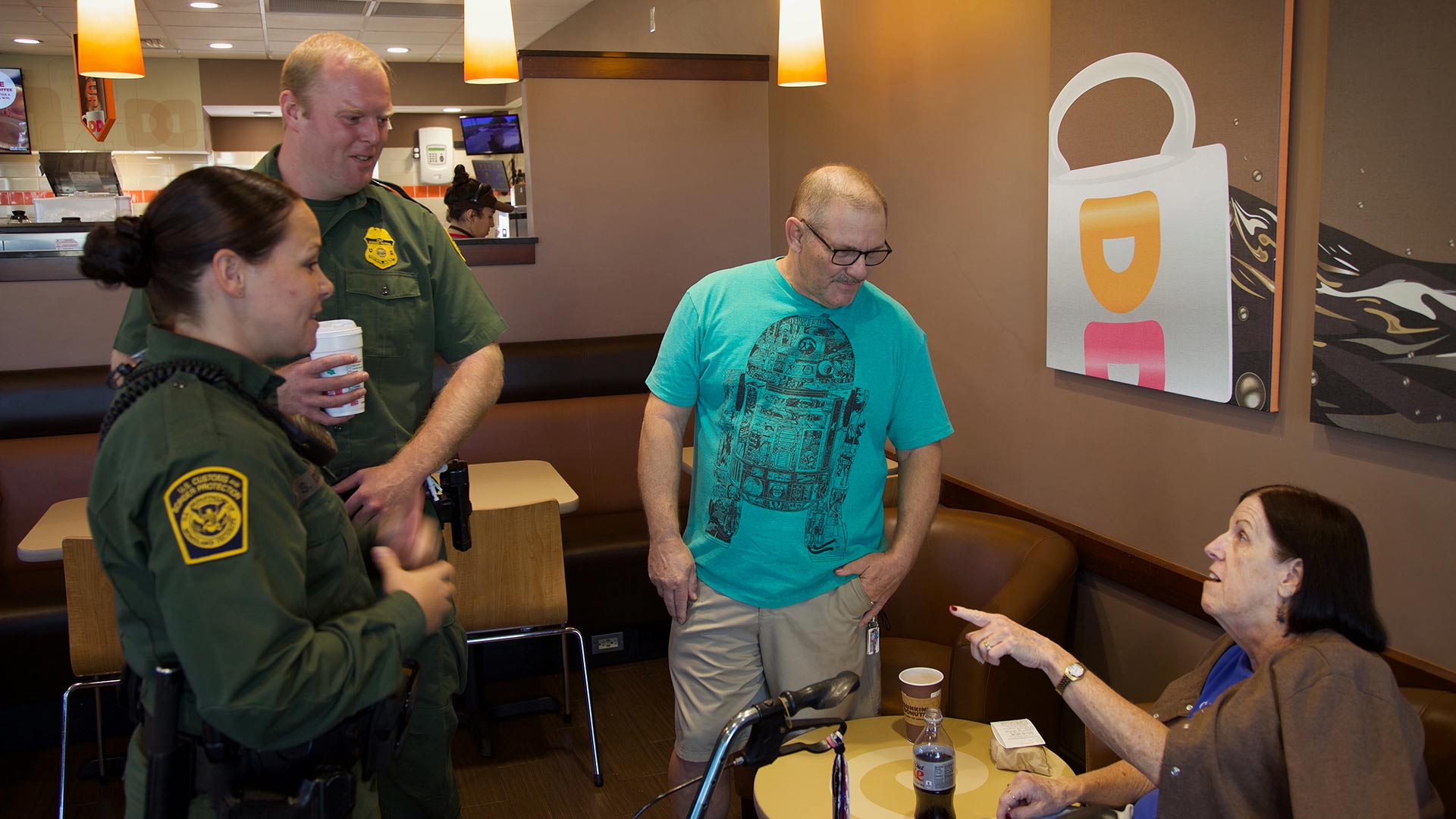 [from left] Agents Stephanie Dixon and Jacob Stukenberg chat with Mike Katzorke and Nancy Swartzmiller. Among the questions the couple had for the agents was what gear do they carry on their belts and why they wear long sleeves in the summer.
Zac Ziegler
Agents from the Border Patrol's Tucson sector spent a couple of hours at a Dunkin' Donuts near Davis Monthan Air Force Base introducing themselves to the public, Monday morning.
The event was part of Coffee With a Cop, a national campaign that encourages law enforcement to interact with those they serve.
Among those who stopped by the donut shop were married couple Mike Katzorke and Nancy Swartzmiller.
They heard about the event the night before while watching a local news broadcast.
"We thought, well, it's just down the street from where we live, so let's go there and have some donuts and coffee and chat," said Katzorke.
Part of the reason for the trip was to offer words of encouragement.
"We decided to come down here and thank whoever was here for helping take care of us and tell them they're doing a good job," said Swartzmiller.
A half-dozen agents from the Tucson Sector were in attendance. They answered the public's questions about their work and lives.
"A lot of the conversations I've been having haven't been all about Border Patrol," said agent Jacob Stukenberg. "They've been about who were are as a person, too, life experiences and things like that. It's been really nice to get out and do this, and to get out and talk to people."
What are the main questions the agents are asked about?
"It's nice to help differentiate between us, Border Patrol and Customs [and Border Protection] in blue [uniforms]," said agent Stephanie Dixon. "We get confused a lot. Also, we have a lot of questions about President Trump's wall."
Despite the charged political climate around the agency, the agents said the conversations remained civil and pleasant throughout the event.