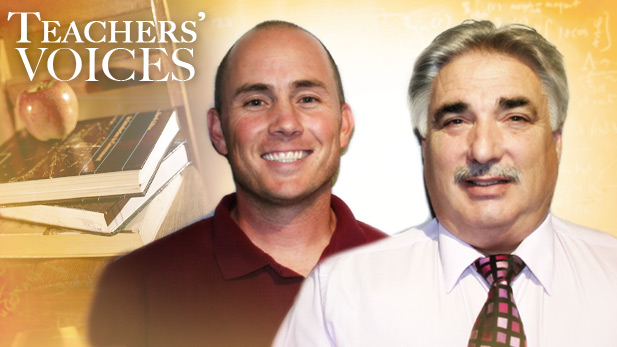 Andy Townsend, 2010 Rodel Exemplary Teacher Award winner (left) and Bernie Cohn, 2009 Rodel Exemplary Principal Award winner (right)
Andy Townsend is a competitor.
As a fifth grade teacher at Elvira Elementary, he took pride in his classroom's improving test scores but was not satisfied.
"I was proud at the movement that was happening but then I started to wonder about some of the other schools in the city," Townsend said.
Elvira Elementary is in the Sunnyside Unified School District, which is designated as low income and high poverty. But, Townsend began analyzing and comparing testing data across the city and saw no reason why his classroom coudn't compete with the test scores from other school districts, regardless of socio-economic status.
"If there is a school on Sabino Canyon and River that has got ninety percent 'Meets and Exceeds', my kids aren't any different than those kids. Why can't we be at those levels?," Townsend asked.
The desire to dedicate himself to his students and defy expectations led to Andy Townsend winning the 2010 Rodel Exemplary Teacher Award. The Rodel Charitable Foundation recognizes teachers in economically challenged school districts who have maintained three years of consistently high testing data in reading, writing, and math. As part of the award, Townsend will now be required to mentor 6 Rodel winning student teachers over the next 3 years.
Townsend will always remember the day that Dr. Carol Peck, the CEO of the Rodel Charitable Foundation of Arizona, and various Sunnyside administrators and board members stopped by his classroom to announce his award.
"It was really such an exciting day for the kids in the class...I think back to the way I felt that day, reflecting back on some of my experiences that had led me into education," Townsend said.
Specifically, he thought back to a baseball field in Henderson, Nevada. While coaching a team of little leaguers, Townsend decided to make a change from his job in sales to a career in education.
"It's just neat for me to continue that spirit that initially had me motivated to get in to education," Townsend said.
"I look at my class as a team...not just a team, those kids are my family."
On this week's Teachers' Voices, hear Andy Townsend tell Bernie Cohn, Executive Director of the Sunnyside Unified School District and winner of the 2009 Rodel Exemplary Principal Award, the story that led to Andy discovering his life's work.
View more stories on the Teachers Voices page.
Funding for the production of Teachers' Voices is provided by Wells Fargo and the University of Arizona College of Education.