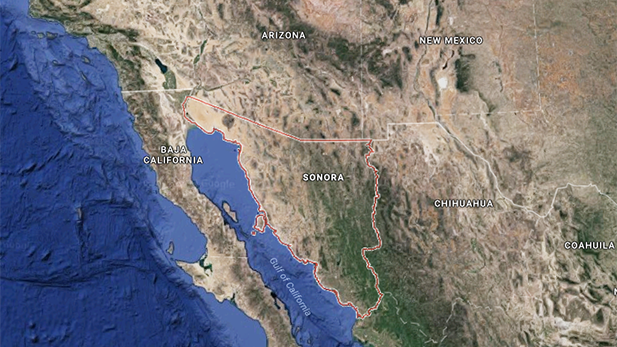 Google Maps image of the Southwest U.S.-Mexican border, with the Mexican state of Sonora highlighted.

Via Google Maps
Arizona Gov. Doug Ducey met with his Sonora counterpart Friday at an annual Arizona-Mexico Commission summit in Mexico. The governors signed two major agreements in education and in transportation.
The governors signed an agreement that will enable Northern Arizona University and the Universidad Tecnológico de Hermosillo, in the Sonoran capital, will partner with joint research and internships for students at both campuses.
"It will develop cutting-edge student mobility, programming and a focus on applied research, cultural understanding and unique educational experiences," Ducey said.
In a second declaration, the Arizona Department of Transportation will work with its Sonoran counterparts to develop a safety corridor and a trained accident-scene unit on the rough highway between Puerto Peñasco and the Mexican border city of Sonoyta.
"Many Arizonans happily travel along this corridor, especially during long weekends, summer and holidays. So we're very excited for this opportunity," Ducey said.
The annual summit focused heavily on the impacts to both states if the U.S. were to abandon the North American Free Trade Agreement the country shares with Mexico and Canada. Neither governor stopped short of openly criticizing the Trump administration for its hard stance against NAFTA, but Sonora Gov. Claudia Pavlovich said the two states could show a broader audience how two regions could work together.