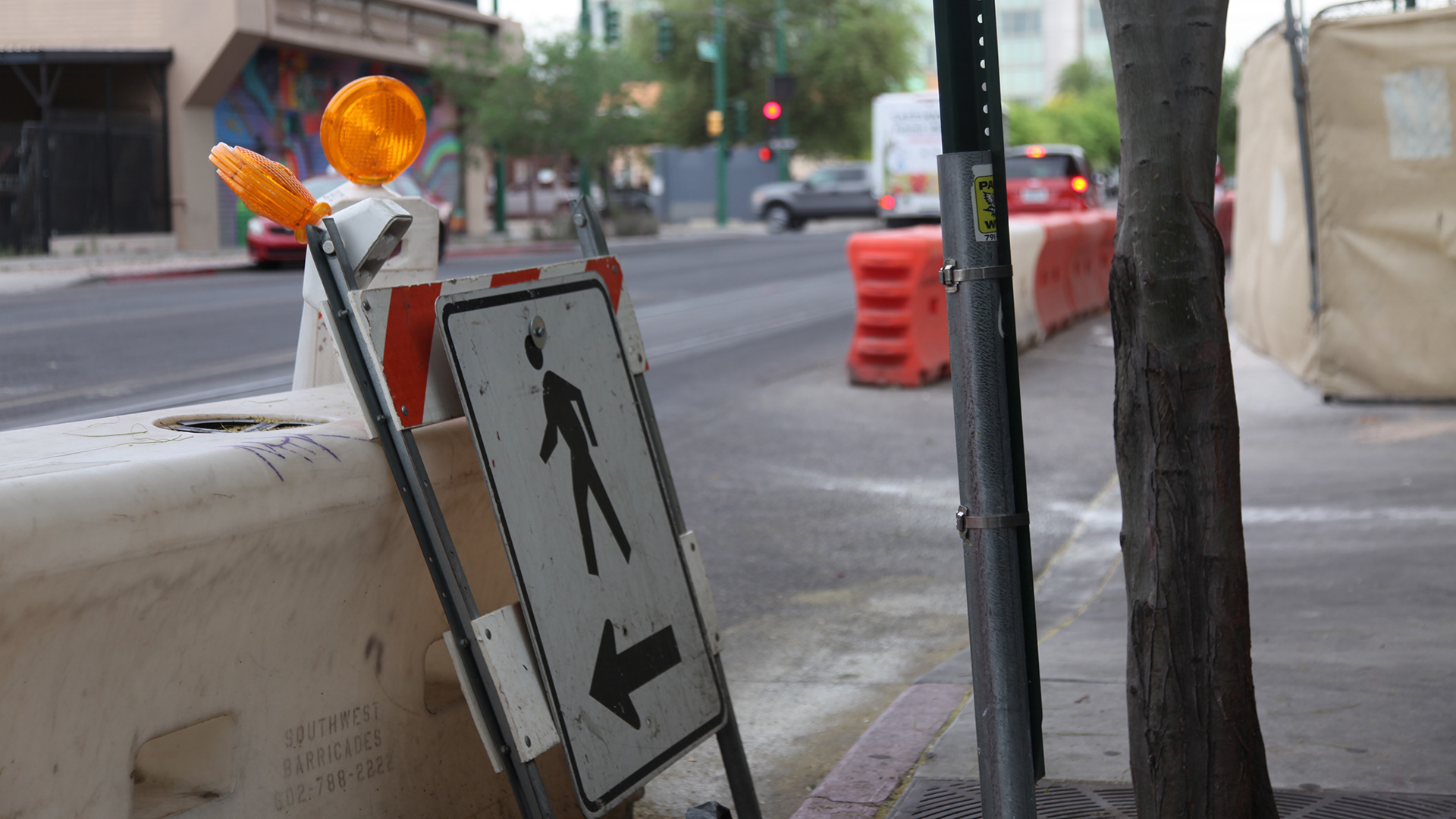 A sign directing pedestrians on a street in downtown Tucson.
Nick O'Gara, AZPM
A memo from the Pima County Attorney's office to Supervisor Steve Christy concludes it could be legal to hand the task of road maintenance to the Regional Transportation Authority, should the RTA want the responsibility.
"Though the RTA's authority isn't entirely clear, there is a reasonable argument that it could - assuming it would be willing to do so - conduct road maintenance projects on County roads under an intergovernmental agreement with the County, using money provided by the County," wrote Deputy County Attorney Regina Nassen.
Christy, a Republican, has made handing such matters off to the RTA a part of his Just Fix the Roads plan, which would replace a recently-instated property tax with a half-cent sales tax.
During Tuesday's supervisors' meeting, Deputy County Attorney Andy Flagg said there is nothing preventing the RTA from playing a role in road repairs.
"The RTA could maybe serve in some sort of advisory capacity or something like that, but in our view the critical final decision-making needs to be made by the board," said Flagg.
When the move was compared to hiring a contractor to complete a construction project, Flagg agreed with the analogy.
County Administrator Chuck Huckelberry told the board that the ability to hand off such matters to another entity would depend on wording an ordinance that ensures ultimate responsibility stays with the supervisors.
"That ordinance could be adopted, and yes the RTA or [The Pima Association of Governments] could administer the actual implementation of the ordinance because the board will have set the program."
The supervisors voted Tuesday to release the memo so the matter could be discussed publicly.
Read the County Attorney memo:
Memo: RTA Can Legally Fix Roads

View at Google Docs
|

Download File