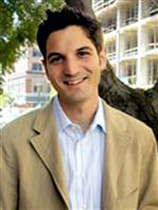 NPR correspondent Guy Raz invites writers of all stripes to try their hand at "Three-Minute Fiction," a short story contest that gives listeners a chance to let loose their inner bard in 600 words or less.
There may be other parameters for the stories, like a suggested opening sentence or words that must be used, but these details are determined by the celebrity judge of each round. The judge for upcoming Round 6 is Nigerian author Chimamanda Ngozi Adichie, and the complete details of Round 6 will be revealed on this weekend's All Things Considered, heard Saturday and Sunday afternoons, January 8th & 9th, at 4 o'clock on KUAZ FM / AM.
The weekend All Things Considered website offers many short stories from previous rounds for you to read, including Round 5 grand-prize winner Roosts by Zach Brockhouse.

In the interview below with Arizona Spotlight's Mark McLemore, you can hear Guy Raz tell the inspiring story behind Roosts, and the opportunities that the Three-Minute Fiction Contest opened up for its author.
THIS JUST IN: Three-Minute Fiction Judge Chimamanda Ngozi Adichie has spoken -- her requirements for all Round 6 submissions are these: - At some point in the story, one character must tell a joke - One character must cry
Now, get those quill pens started and create your 3-Minute masterpiece!! Good luck!