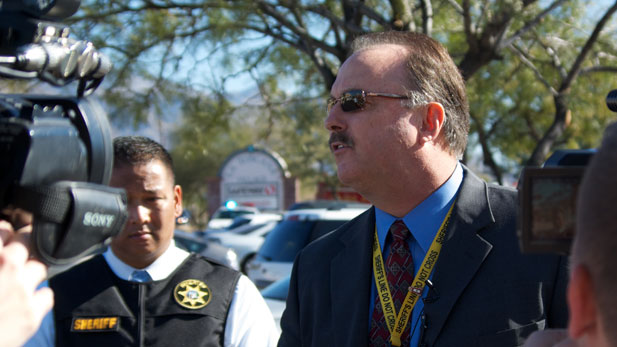 PHOTO: AZPM
Police hold a press briefing at the scene of Giffords' shooting.
Giffords, who was re-elected to a third term in November, was hosting a "Congress on Your Corner" event at a Safeway in northwest Tucson when a gunman ran up and started shooting, according to Peter Michaels, news director of Arizona Public Media.
Michaels reports Giffords was talking to a couple when the suspect ran up and fired indiscriminately from about four feet away. The suspect ran off and was tackled by a bystander. He was taken into custody. Witnesses described him as in his late teens or early 20s. A total of ten people were shot, including Giffords.
There have been conflicting reports about Congresswoman Giffords' condition. Some reports say she is currently in surgery at University Medical Center.
A news briefing is scheduled for 1:30 this afternoon at University Medical Center.