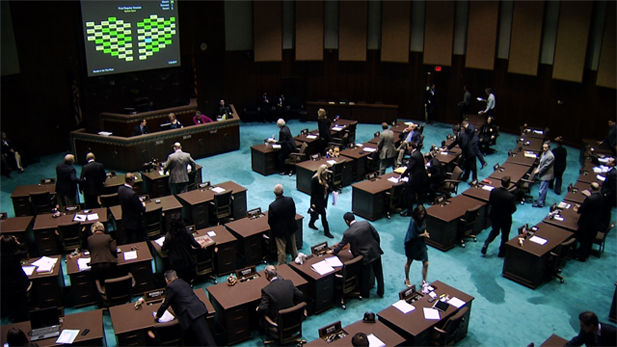 Members of the Arizona state Legislature meet at the Senate Building.

AZPM
The Arizona Legislature is taking steps to ensure that hearing loss doesn't prevent people from participating in the lawmaking process.

More than 1 million people in Arizona have some hearing loss. Until recently, one of the life activities affected was watching state government in action.
The Arizona Capitol Times reports Arizona is the first state in the nation to offer live closed captions by request for people watching committee hearings over the web. The captioning, provided by the Arizona Relay Service, must be requested 72 hours in advance through a form on the Legislature's website.
People will be able to view the captioning on mobile devices and computers.
Closed captioning comes one year after the Legislature began offering "looping" service, which transmits committee audio directly to the hearing aids of people in attendance in the Capitol building.