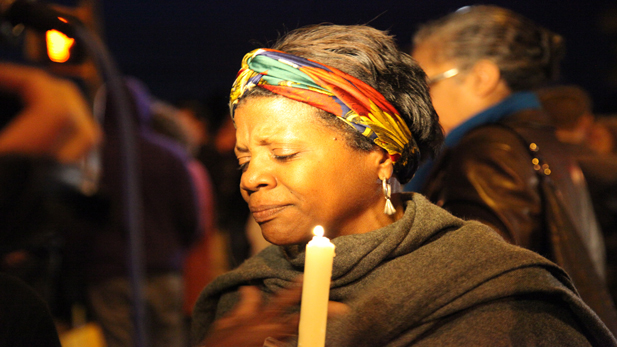 Lynn Clark, a 3rd grade teacher from Tucson, attended Sunday's vigil with her son. (PHOTO: Mark Duggan)
Hundreds of supporters gathered in Tucson and Phoenix Sunday night to honor the victims of Saturday's shooting. Vigils sprang up outside churches and Tucson's University Medical Center, where U.S. Congresswoman Gabrielle Giffords and several other shooting victims remain under treatment.

One of the largest events took place at Giffords' midtown Tucson district offices, where over 300 people came together for interdenominational prayers and music.

Some held signs promoting peace and wishing the victims well, and all were hit hard by Saturday's tragic events, which claimed six lives and left 14 injured.
"It's just senseless," said Lynn S. Clark, a 3rd grade teacher from Tucson who attended the vigil with her son. She fought back tears as she reflected on the victims killed in gunman Jared Lee Loughner's attack.

"It's like sand and you blow it and it just dissipates," she said. "You're never going to see them and you can't get their lives back."