University Medical Center doctors treating U.S. Congresswoman Gabrielle Giffords confirmed today that she did open her eyes last night, and that she has repeatedly done so in the hours since that first stirring.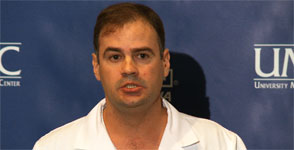 PHOTO: AZPM
Michael Lemole Jr., University Medical Centerl's chief of neurosurgery.
Giffords is "starting to become aware of her surroundings," neurosurgery chief Michael Lemole told reporters this morning. "This is a major milestone for her, and we're hoping she crosses through many more."
UMC trauma chief Peter Rhee expressed gratitude that President Barack Obama was the first to share the news with the American public. Obama revealed the new development in his speech at last night's public memorial, with permission from Giffords' husband Mark Kelly.

In addition to more eye opening--Giffords has gone from opening them less than a minute Wednesday to keeping them open 10 to 15 minutes--the Congresswoman has also shown she can focus and track her eyes, move all her limbs and breathe on her own. Giffords has already begun some physical therapy involving sitting up with her legs dangling off the side of her hospital bed and moving them. "She is able to move both of those legs to command, which is huge," Lemole said.
Despite progress that even her doctors are calling "a miracle," Giffords remain in critical condition and will stay under close watch for the next several days. Her next milestone will come when doctors remove her breathing tube, which Rhee and Lemole said they expect to do soon.
Four of the shooting victims being treated at UMC are now in fair condition, the doctors reported, and one is expected to be discharged today.