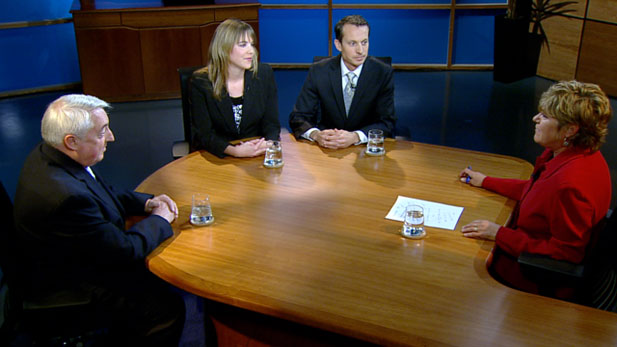 PHOTO: AZPM
Pima County Attorney's Victim Services Division Director Kent Burbank, victim advocate Vanessa Helms, and Gabrielle Giffords aide Mark Kimble join Kimberly Craft.
Established in 1975, the Pima County Attorney's Victim Services Division was the first program in the country to provide comprehensive assistance to victims of crimes. It has served as the model for other programs nationwide and in several foreign countries. Its staff and volunteers were among the first responders at the January 8 shooting of U.S. Congresswoman Gabrielle Giffords.

Division Director Kent Burbank joins the studio to talk about the history of the program. Vanessa Helms, a victim's advocate, explains how she helps people throughout the county. Mark Kimble works as an aide to Giffords and has volunteered with the Victim Services Division for the last 25 years. All three were involved in the events on Saturday and discuss the significance of the program and how they deployed and responded to the crisis.
Homicide Survivors, Inc. has established the Tucson Tragedy Victim Fund to provide help for victims, witnesses and family members affected by the mass shooting.

Homicide Survivors, Inc. 32 N. Stone Ave., Ste. 1408 Tucson, AZ 85701 520.740.5729
Click here to find out more about Victim Services, future volunteer training and links to resources.