Arizona's top two legislators say they don't foresee any rollback of gun rights in the wake of last week's shooting rampage in Tucson in which six died. Fourteen others, including Congresswoman Gabrielle Giffords, D-Ariz., were wounded.
In fact, Senate President Russell Pearce said, he favors expanding gun rights in the state as a way of providing people with even more self-protection ability.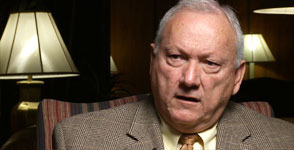 PHOTO: AZPM
Arizona Senate President Russell Pearce discusses the aftermath of the Tucson shooting.
"Guns save lives," Pearce said in an interview Thursday in Phoenix. "Had there been an armed citizen there prepared to take action, lives could have been saved."
Pearce, a former sheriff's deputy who was wounded in the line of duty, re-emphasized his point several times, saying later in the interview: "If I had been there and been armed, there would have been an immediate response, and lives would have been saved."
He did not note that Joe Zamudio, one of the bystanders who helped subdue gunman Jared Lee Loughner at the scene of the shooting, was armed at the time. He nearly shot the wrong man--a fellow bystander who had wrestled away Loughner's gun--but chose not to draw his weapon for fear he would be mistaken for a second gunman.
House Speaker Kirk Adams said in a separate interview the same day that state support for the right to bear arms will stand.
"Arizona is a state that has long valued 2nd Amendment rights," Adams said. "The 2nd Amendment in Arizona is very well protected and is valued both by the citizenry and by elected officials. I don't ever see that situation changing."
At the same time, Adams said, he wants to take time reviewing all gun-related legislation in the House before allowing it to move forward.
"We need to be careful in how Arizona is perceived by the country and the rest of the world," he said. "This tragedy that occurred I don't believe is reflective of Arizona's gun laws at this point."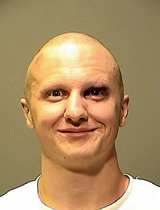 PHOTO: Pima County Sheriff's Department
Alleged gunman Jared Lee Loughner faces federal murder and attempted murder charges.
Adams said review of gun-related bills will include considering the circumstances in Saturday's shooting, in which a young man used a gun and an extended ammunition clip that were both obtained legally.
"There will be no divorcing the tragedy from discussion of gun legislation," he said.
Giffords remained in critical condition at University Medical Center in Tucson, recovering from a bullet wound to the head. The shooting left U.S. District Judge John Roll, one member of Giffords' staff, a 9-year-old girl and three senior citizens dead. Two other members of Giffords' staff and several constituents who had come to meet her at a "Congress on your Corner" event were wounded.
Loughner, 22, of Tucson, has been charged in federal court with murder and attempted murder. Authorities have cited rambling and sometimes incoherent postings on the Internet by Loughner as signs of mental instability.
A teacher and fellow students at Pima Community College described Loughner's behavior at times as strange. At one point, he was told he could not continue classes at Pima until he brought documentation showing he was receiving mental health treatment, several news media outlets have reported.
Senate President Pearce said he favors proposed legislation that would lift gun bans on college campuses in the state, thus allowing faculty members to carry guns at will and students to do the same after obtaining permits.
He rejected arguments that numerous citizens carrying guns could create dangerous scenarios, instead saying it would bring an increased level of safety as they take charge of their own security.
"We have to take personal responsibility, so our obligation is to protect me, to protect you, to protect our families," Pearce said. "You can't rob America of that."
Reporter and Arizona Week host Michael Chihak discusses these interviews and explores the aftermath of the Tucson shooting in this Jan. 14 episode. Watch now: