U.S. Congresswoman Gabrielle Giffords continues to show progress in her recovery from a gunshot wound to the head, doctors at University Medical Center reported today. "We couldn't have hoped for any better improvement than we're seeing now," said UMC neurosurgery chief Michael Lemole.
Giffords is opening her eyes more frequently and for longer periods, and is able to move her arms and legs independently in "more complex" motion sequences, Lemole said. Overall, he said, Giffords is "continuing to make all the right moves in the right direction."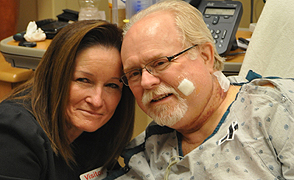 Ron Barber sitting with Anna Ballis, the woman who applied pressure to his wounds moments after the shooting. Doctors told Ron that had she not administered this first aid, he likely would not have made it to the ER. (PHOTO: Jason Blake/Courtesy of the Barber family)
Two shooting victims, Ron Barber and Pam Simon, are now home after receiving treatment for wounds sustained in the attack Saturday.

Simon, an outreach coordinator for Gabrielle Giffords who was shot twice, returned to work today. Barber, Giffords' Tucson district director, was discharged today despite undergoing surgeries on Sunday and Tuesday.
He planned to attend the funeral service for John Roll, a federal judge killed in the shooting.
University Medical Center press briefing on the condition of Rep. Gabrielle Giffords and other victims (VIDEO: AZPM)