U.S. Congresswoman Gabrielle Giffords will be moved to a rehabilitation hospital in Houston, Texas tomorrow, her family announced in a press conference this morning. Giffords, who was shot through the head at point-blank range during the January 8 mass killing in northwest Tucson, has been treated at University Medical Center until now.
UMC trauma chief Peter Rhee and neurosurgery chief Michael Lemole continue to characterize her recovery as encouraging and "unusual."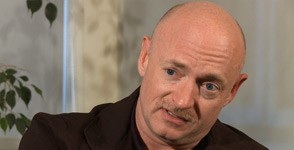 PHOTO: AZPM
Mark Kelly, astronaut and husband of U.S. Rep. Gabrielle Giffords.
"She continues to do very well neurologically," said Lemole, citing her ability to scroll through an Ipad, respond to her surroundings and stand with assistance as evidence of higher-level mental functioning.

Giffords' husband, Navy officer and astronaut Mark Kelly, said she has even attempted to speak.
"But we do want to caution that she has a long road ahead of her," said Lemole.
That long road will include a few minor procedures today, and transportation to a rehabilitation facility on Friday. Kelly described the difficulty he and his family had in deciding where Giffords would undergo rehab. They considered hospitals across the country, including a center in Tucson.
"This is her home, this is the place she loves," Kelly said of Tucson, but he and his family have chosen TIRR (The Institute for Rehabilitation and Research) Memorial Hermann Rehabilitation Hospital in Houston, a 116-bed hospital that specializes in patients recovering from catastrophic brain injuries.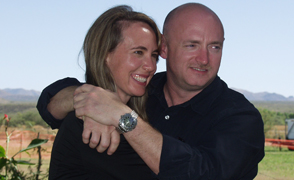 PHOTO: courtesy of C.J. Karamargin
Congresswoman Gabrielle Giffords and husband Mark Kelly at their November 2007 wedding.
The hospital's location would keep Giffords close to her husband, who lives and works in Houston, and to her teenaged stepdaughters.

Kelly expects to transfer Giffords to Houston tomorrow, and expressed his thanks for the "perfect" care his wife has received in Tucson and for the overwhelming support the community has shown her and the other shooting victims.
"The last 12 days have been extraordinarily difficult," said Kelly, "but what this has done is it has certainly shown me what Tucson is all about."
"I think all Americans are very proud of what they've seen" in Tucson, he said. "I know my wife, Gabrielle, would be very proud."
And she will be back to say so herself, Kelly added. "She'll be walking, talking, and in two months you'll see her walking through the front door."