The recession and Arizona's financial crisis continue to have statewide repercussions, especially in the cities and towns where most of the population lives, two city officials say.
Avondale Mayor Marie Lopez Rogers said she is worried about what will happen to funding that her community and other municipalities get from the state if the federal government rejects Arizona's request to cut its Medicaid benefits.
"My worry is if it doesn't happen, where does that place us?" Rogers said. She said she fears that public safety resources, which until now have been off limits to cuts in Avondale and many other places, would have to become part of the conversation.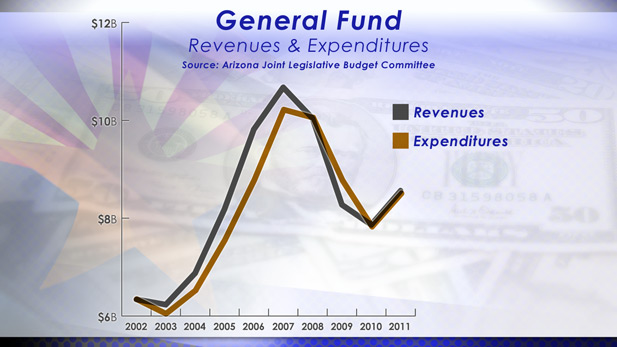 Historical data shows Arizona's revenues and expenditures haven't kept pace over the past three years.
Gov. Jan Brewer this week asked the federal government to waive the requirement that the state keep its Medicaid funding at current levels. It's a way to save the state $541.5 million, but it would eliminate state-paid health care for 280,000 poor Arizona adults and could lead to a loss of federal health care funds on which the state has relied until now.
Ken Strobeck, executive director of the League of Arizona Cities and Towns, said that while the $800 million the state passes along to cities and towns is money legally formulated for cities and towns, it could be in jeopardy if the Medicaid waiver is rejected.
As others have noted, Strobeck recognized that the state currently has "no Plan B as far as the governor's budget is concerned. They have said that."
"If (the Medicaid waiver) doesn't come through, I really don't think that anything is off the table, and we would be beside schools and public safety and everything else fighting for the revenue that we think should be going to cities and towns," he said.
Arizona's 91 municipalities have cut their budgets by 30 percent on average in the last three years, Strobeck said, and they have little room for more cuts.
"Things are slowly getting better, but it is definitely still a struggle," he said. "We're obviously in the same economy that the state is."
Half of the $800 million designated for municipalities comes from the state income tax, and half from a combination of state sales tax revenues and vehicle license fee revenues, Strobeck said.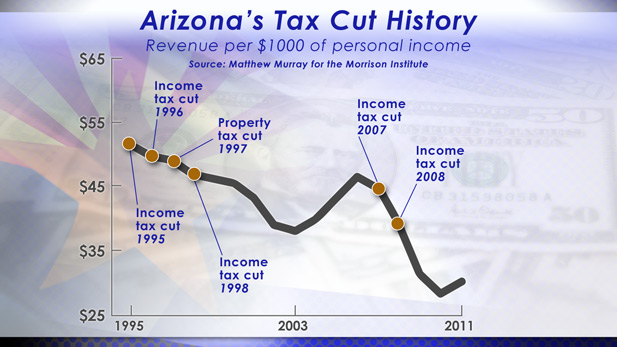 Steadily declining income taxes have compounded the imbalance between what the state takes in and what it spends.
Because the income and sales tax revenue streams to the state have been down in the last few years, the state's required pass-along to the cities has fallen significantly and will be down another 18 percent for the next fiscal year, Strobeck said.
It likely will continue to fall for the next couple of years because the state's payments lag the economy by about that much time, he said.
Most municipalities have eaten into their reserve funds and won't have much more left as the crisis rolls on, Strobeck said. The state reserve fund totaled $600 million when the fiscal crisis began, he said, and "that went very, very quickly, in just two fiscal years."
Reporter Michael Chihak further explores the looming fiscal crunch on Arizona Week. Watch it now.
Arizona Week: Cities Face Crippling Cuts (VIDEO: AZPM)