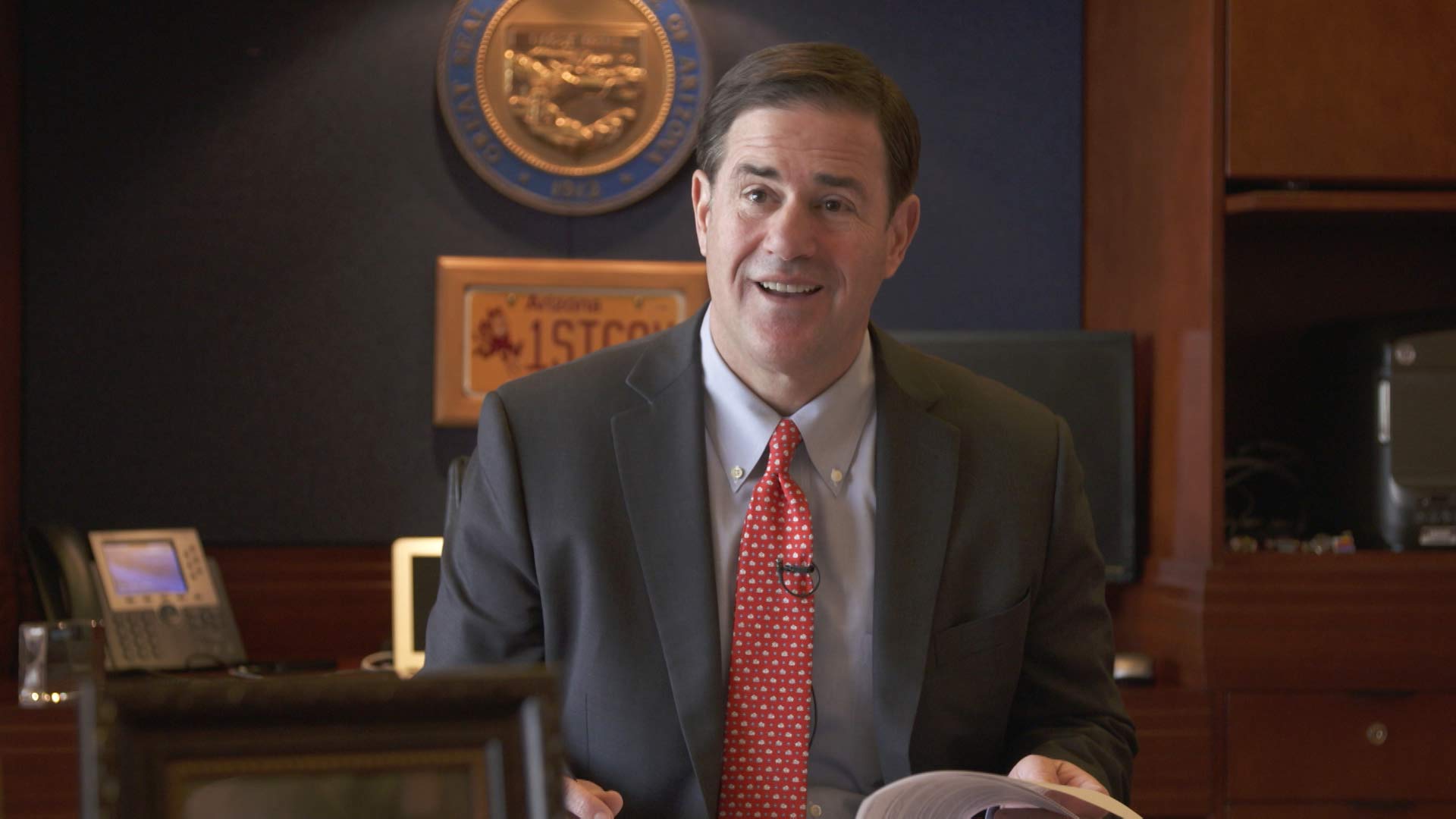 Arizona Gov. Doug Ducey speaks with Arizona Public Media prior to his 2018 State of the State address.
AZPM Staff
Gov. Doug Ducey's office has released a proposal aimed at reducing the chances of a mass shooting in Arizona schools.
The plan proposes several steps, including a way to take guns from a dangerous person, more funding for school mental health programs, improvements in training and equipment for school resource officers and modernizing databases that play a part in denying new gun purchases to individuals deemed unfit.
Opponents have said Ducey's plan falls short by not requiring background checks of private and gun show weapons sales and by allowing bump stocks to remain legal.
The plan establishes Severe Threat Orders of Protection, which would allow a variety of people to ask that an individual's guns be temporarily be taken away because they are "are a danger to themselves or others."
"The petition is only granted upon an order from the superior court or by the juvenile court if the subject of the petition is younger than 18 years old," the plan states. Petitions can be made by law enforcement, school personnel, family and health professionals.
Orders vary in length from 14 days to six months, and require surrender of weapons within 24 hours.
The plan also focuses on school preparedness. It offers $2 million in state funding for behavioral and mental health resources in schools with up to $6 million in federal matching funds.
It also mandates new emergency plans and additional drills at schools, and increases training for school resource officers.
The plan would also allow for the option to create a "reserve system of former law enforcement officers that would be trained and certified to carry firearms on campus."
The plan also calls for the modernizing of the Arizona Computerized Criminal History and concealed carry weapon permit databases.
Arizona law enforcement agencies are required to report information to the criminal history database within 40 days of a record being created. After the database is monitored, that time will be reduced to one day.
Modernizing the concealed carry permit database will allow licensed gun dealers to more quickly find out if a permit has been suspended or revoked. Dealers are allowed to check the database in place of a national background check.
Ducey's plan requires approval by the legislature before it can become law. A spokesman for the governor said talks are underway with legislators, and staff hopes to have a bill prepared as early as next week.