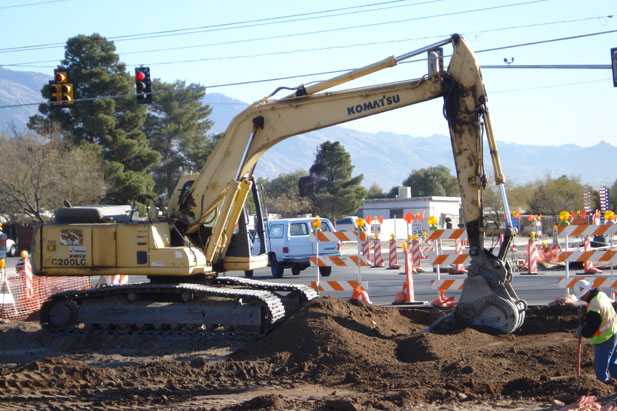 Drivers maneuver around RTA-funded projects
Regional Transportation Authority construction projects underway right now in Tucson and other parts of Pima County may not have been possible were it not for a decision voters made four years ago.
In 2006, residents in Pima County approved a half-cent sales tax increase that is slated to raise $2.1 billion over 20 years to help fund many transportation projects.
One of the major ones under construction now is happening on Tucson's east side, along a two-mile stretch on Speedway Boulevard from Camino Seco to Houghton.

Fred Felix is the engineering project manager for the city of Tucson's Department of Transportation and he says the improvement will include bicycle lanes, sidewalks and better drainage. He says the RTA is fully funding the project which is estimated to cost about $14 million and should be completed next year.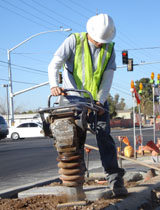 Construction workers are staying busy on several road projects
"It actually first appeared in the county 1997 bond election and at that particular time the bonds were going to be used to make the improvements to Speedway," says Felix. "The bonds was not enough money so the project had to be delayed and with the passing of the half-cent sales tax this was one of the projects that was identified, the design was completed and we're now in construction."
Another important project this year is northwest of Tucson and it's being handled by Pima County's Department of Transportation.

Construction on La Cholla Boulevard between Ruthrauff Road and River Road will include adding two lanes in each direction and building a couple of new bridges over the river. Officials say most of the funds are being provided by the RTA.
"Construction started December 2009 and we're looking at substantial completion, which means opening up six lanes of traffic this summer and the total project budget is approximately 19 million dollars so that includes planning, design, right of way and construction," says Dean Papajohn, the project manager for Pima County's DoT.
Supporters say the funds are especially vital now due to the difficult economy, which is taking away resources from other traditional sources such as gasoline taxes that are distributed to government transportation agencies.