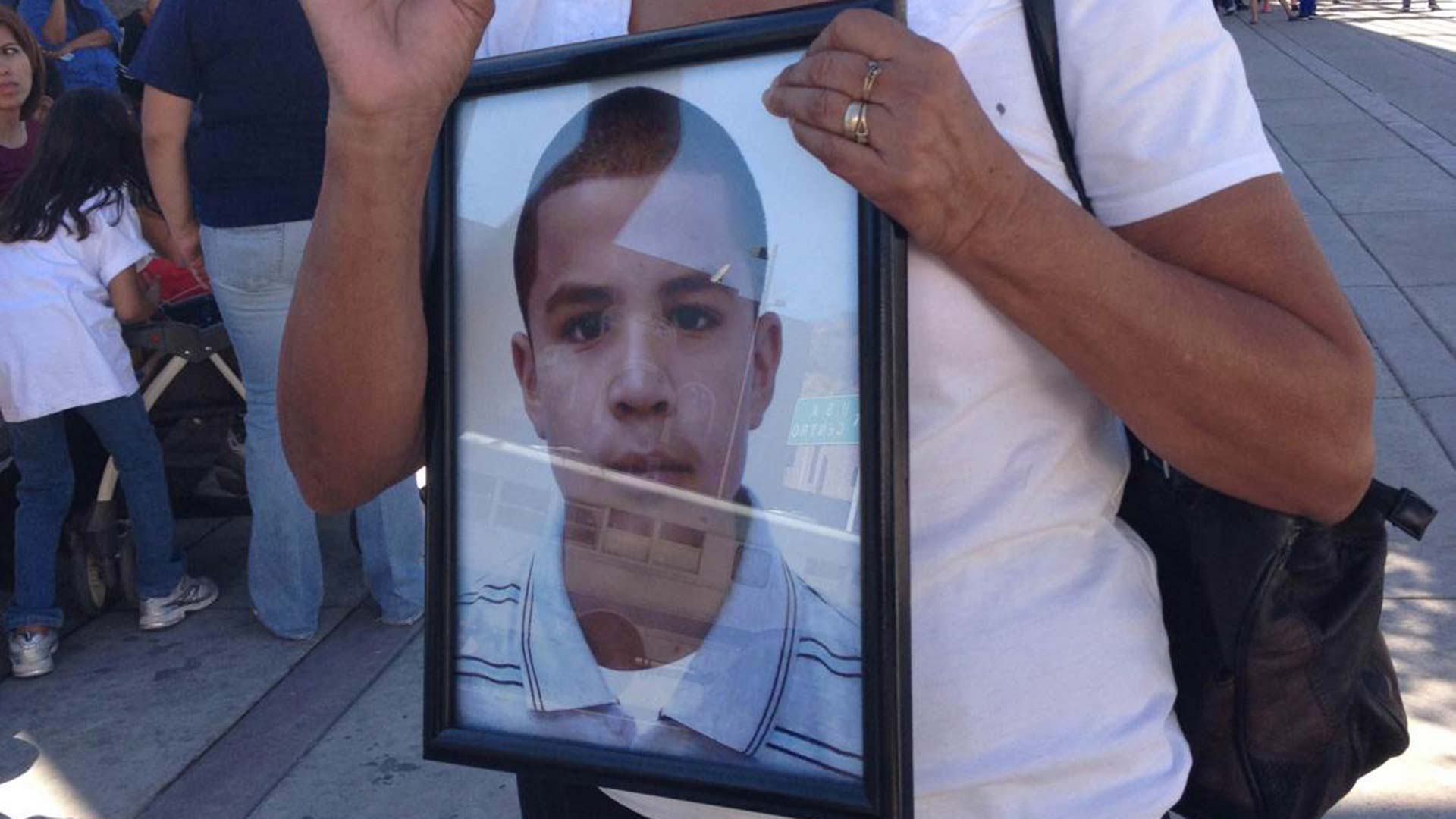 Taide Elena carries a portrait of her grandson, Jose Antonio Elena Rodriguez, who was shot and killed in October 2012.
Michel Marizco, Fronteras Desk
The first Border Patrol agent ever to be charged in a cross-border shooting took the stand yesterday on his own behalf. Agent Lonnie Swartz is charged with second-degree murder in the shooting death more than five years ago of a 16-year-old Mexican national.

Border Patrol Agent Lonnie Swartz has never denied that the shots that killed 16-year-old Jose Elena Rodriguez came from his gun, but claimed it was in self defense.
In April 2012, Border Patrol agents and the Nogales police department responded to a call of two suspected drug traffickers were dropping off bails of marijuana on the U.S. side of the border and trying to climb the fence to get back to Mexico.
Swartz left his post at the walk-through crossing to respond to the call. When he got there, a video of the event showed that rocks were being thrown by two individuals on the Mexican side to give cover to the two men climbing the fence.
While other Border Patrol agents and two officers from the Nogales police department pulled back to take cover from falling rocks, Swartz approached the fence and fired a total of 16 times, hitting Elena Rodriguez 10 times in the back.
But while on the witness stand he told the jury that he had no idea how many shots he had fired. And that many of the details from that night as well as his memory were "very distorted."
The prosecution asked why he didn't back up and seek cover from rocks being thrown over the fence from Mexico into the U.S. as other Border Patrol agents and officers from the Nogales Police Department chose to do. Swartz told the jury that he "chose to defend himself." He told the jury that details from that night were "very distorted."
Swartz's testimony proved too much for the mother of Elena Rodriguez. She left the courtroom. But his grandmother, Taide Elena, stayed to hear the entire testimony:
"I endured," she said, "because I wanted to hear what the government asked him. But everything that wasn't to his advantage he forgot," said the grandmother.
The case is expected to go to the jury for deliberation by the end of the week.