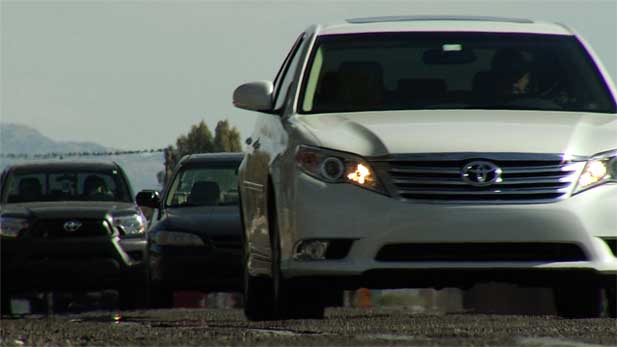 Tucson at rush hour.

AZPM
Transferring vehicle titles in Arizona just became easier.
The Arizona Department of Transportation has introduced an online option for customer-to-customer transfers of titles, eliminating the need for visiting the Motor Vehicle Division or an authorized third party.

"eTitle is one of those innovations that we have put into place to remove at least one type of transaction that used to require an office visit," said Doug Nick, a spokesperson for the Arizona Motor Vehicle Division.
Through the Arizona Department of Transportation website you can navigate to vehicle services where you will find the "Title" section. Next, you can log in or create an account through the online service.
Once both people involved have accounts, they can begin the process of transferring titles, "as long as there is no one owner on each vehicle and there is no liens or any brands, like a salvage title," Nick said.
Since it is a completely electronic process, there is no need for a notary anymore because the multi-factor identification process they use for verifying each account on the website gets rid of that process, according to Nick.
This is one of many new digital platforms MVD is using to speed up services and reduce the number of times you have to visit the MVD. Last month, they rolled out a new online driver's permit process that allows people to take their permit test digitally.
"The technology is there to do a lot more than we are doing," Nick said. "There are more things on the way."