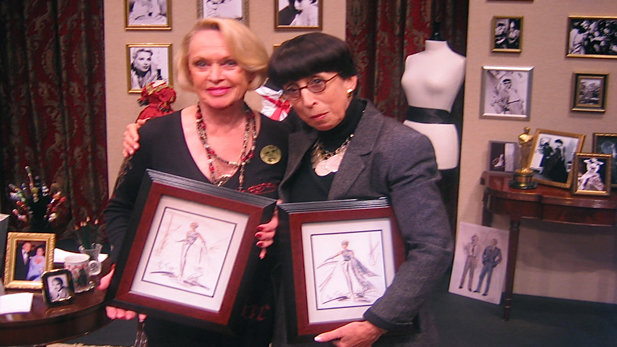 Screen legend Tippi Hedren joins Susan Claassen (in character as Edith Head) onstage for "A Conversation with Edith Head."

Susan Claassen
Edith Head (October 28, 1897 – October 24, 1981) was one of the most instantly recognizable celebrities of Hollywood's golden era, but she was never an actress.
Her talent was for making the silver screen's greatest leading men and women look their absolute best. She forged a successful 60-year career out of enhancing the attractiveness of America's most beautiful people -- while deftly camouflaging their shortcomings -- and they adored her for it. As Edith herself once said, "If Cinderella had had Edith Head, she wouldn't have needed a fairy godmother!"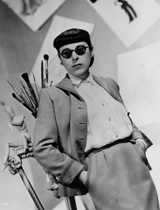 Hollywood designer Edith Head.
Susan Claassen has spent years researching and exploring the life of Edith Head, and it has become a labor of love that never stops.
Susan's stage production, A Conversation with Edith Head, gives Susan an opportunity to completely plunge into the larger-than-life character that Edith Head created for herself. Using material drawn from an extensive collection of personal letters and memoirs, Susan Claassen uses her own talent for improvisation to become the woman behind the dark glasses, and interact with the audience much as Edith would herself, something proven out by the many friends of Edith Head (like Tippi Hedren, pictured above) who say that Susan's portrayal is the next best thing.
A Conversation with Edith Head will be onstage at The Invisible Theater for four performances, starting Thursday March 3rd and running through Saturday March 5th.
Listen to the interview:
On Arizona Spotlight's next show, March 4th, be sure to tune in or visit us online to hear an exclusive interview with a Hollywood legend who knew Edith Head well, actress Tippi Hedren. She'll be visiting Tucson to host a special screening of Alfred Hitchcock's The Birds at The Loft Cinema on Sunday, March 6th.
Part of the proceeds will go to benefit Tippi's most important work, The Roar Foundation and their Shambala Reserve for rescued big cats. Mark McLemore talks with Tippi about her film making memories, and her life after Hollywood. That's a special conversation with screen legend Tippi Hedren, featured next weekend on Arizona Spotlight!