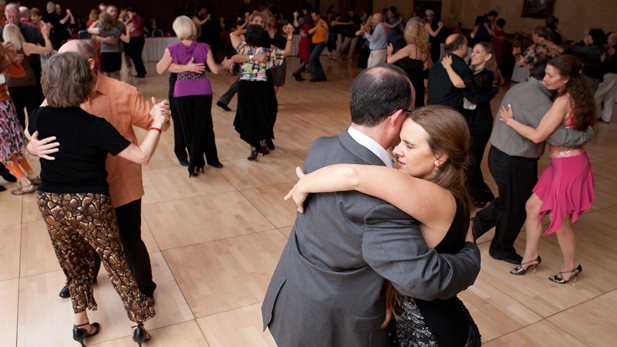 Tucson tango enthusiasts of all skill levels dance together in a milonga.

Rusty Cline
"We are what we repeatedly do. Excellence, therefore, is not an act but a habit." - Aristotle
That quote adorns every e-mail that's sent by Rusty Cline, a 53-year-old former contractor and author who is now a full-time tango dancer, instructor, and enthusiast. It's a credo that informs not only the way he approaches the dance, but also how he approaches life.
For a tango fan, no explanation is needed for the appeal of one of the world's most popular and intimate dances. But one goal of the The Tucson Tango Festival (March 2-7, 2011) is to reach out within our community to find folks who may have thought about trying it, but never had the nerve.
During the Festival, "Guerilla Milongas," or traveling busloads of tango dancers, will be randomly visiting different parts of Tucson to encourage spectators to find a partner and join in.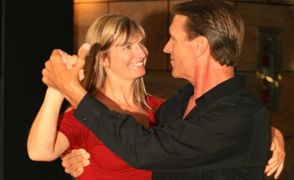 Jo Canalli and Rusty Cline dance the tango

Rusty Cline
Jo Canalli, a former business administrator from Australia, found her affinity for tango practically by accident. Now she and Rusty Cline are a happily married couple who find shared joy in spreading their enthusiasm for tango wherever they go.
Chasing after sunny weather brought Jo and Rusty to Tucson, where they were instantly welcomed by the Old Pueblo's tango community.
"Basically, there is something happening here every day of the week," Jo says. "You can find a lesson, a practica - which is where you go to practice what you learn in class - and approximately three milongas happen every week. Things are happening all the time!"
The Tucson Tango Festival website has a complete rundown of the events happening between March 2nd and March 7th, 2011. The celebration is highlighted by the Tango Allure show on Thursday, March 3, at the Berger Performing Arts Center (a part of the Arizona State Schools for the Deaf and the Blind) located at 1200 West Speedway.
Listen: