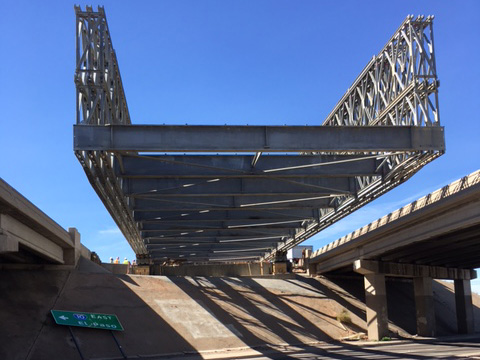 VIEW LARGER A temporary bridge is put in place at I-10 and Craycroft. The temporary bridge was used to allow crews to complete maintenance work on two permanent bridges.

Arizona Department of Transporation
For the second time in as many years, the Arizona Department of Transportation will use a temporary bridge so it can minimize traffic issues while repairing bridges in the Tucson area.
A temporary bridge was recently put in place where I-10 passes over Wilmot Road. Eastbound traffic began passing along the temporary bridge last week.
The use of the temporary bridge allows crews to do maintenance work on the permanent eastbound bridge. The bridge will again be used for the westbound bridge.
"We're looking at late August, early September, right around Labor Day, where we will be moving eastbound traffic back to the eastbound bridge when we're done with that work," said ADOT's Tom Herrmann. "Then we'll move the westbound traffic over to the temporary bridge and do the same thing."
Westbound bridge work is expected to be completed in December.
ADOT used a similar set up in 2017 at I-10 and Craycroft Road.
Herrmann said the biggest change for drivers on the interstate is a speed limit drop from 65 miles an hour to 55.
"We really didn't see a lot of added congestion at Craycroft last year, and we really don't expect there to be a lot of added congestion at Wilmot this year, because of the temporary bridge," he said.
Herrmann said successful use of the temporary bridge at Craycroft made the department more comfortable with such projects, and that Tucson drivers should expect to see further use of temporary bridges for ADOT projects in the future.