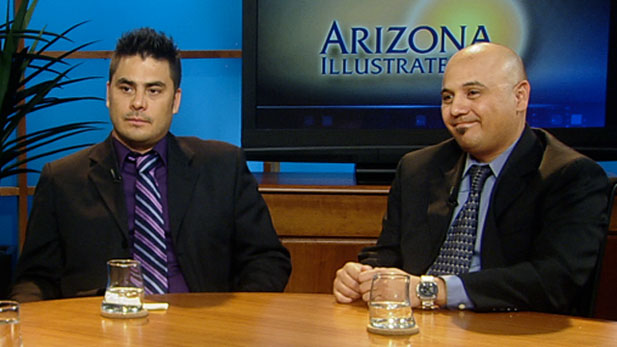 PHOTO: AZPM
Tony Gallegos and Luis Carlos Davis discuss their documentary on the Arizona-Sonora border.
The Arizona-Sonora border stretches 389 miles, and that is the title of an award-winning documentary by Luis Carlos Davis Romero, a University of Arizona graduate recently named the 40 under 40 Man of the Year by the Arizona Daily Star. He talks about the film and a special screening to benefit Itzel Apodaca, the only athlete from Tucson competing in the Special Olympics World Games this summer in Athens, Greece.
Davis Romero is joined by co-editor Tony Gallego. They explain that the film has no political agenda. By presenting interviews of diverse people along the border, they hope to offer viewers an opportunity to make their own decisions about the immigration issue. Davis Romero is believed to be the first to record an interview with a pollero, or people smuggler, who reveals how lucrative this line of work has become: polleros can earn up to $500,000 per year from human trafficking.