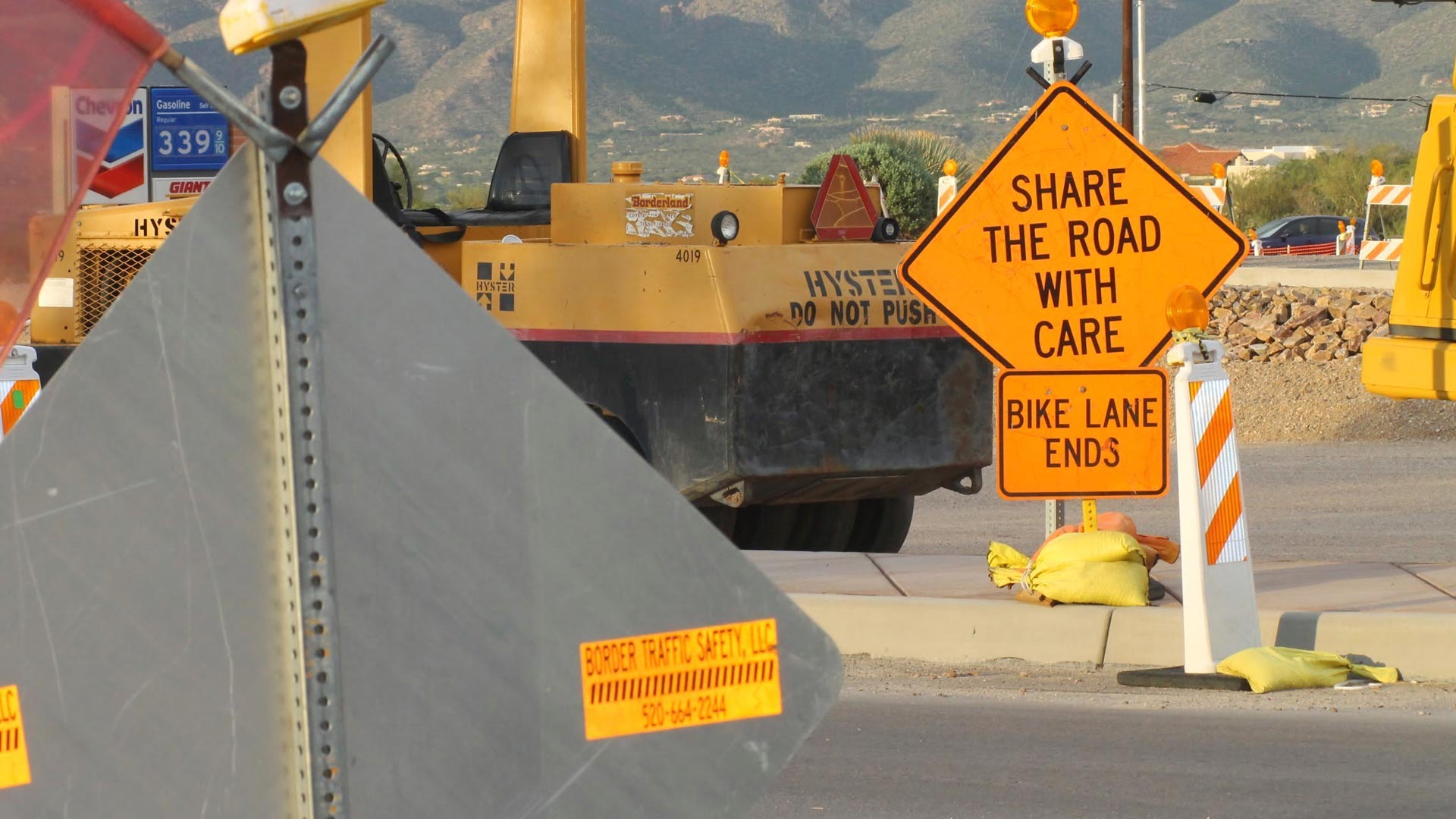 $900 million could address repairs and construction Pima County roads over the next 10 years.
AZPM Staff
The Pima County Board of Supervisors failed to pass a half-cent sales tax that would have funded road repairs in the county at their Tuesday meeting.
The vote went along party lines, with the board's two Republicans voting against. Arizona law requires a unanimous vote to pass a new sales tax.
Both of the board's Republicans expressed concern with what they see as a lack of fiscal responsibility in other areas of the county's budget for the coming fiscal year as the reason they voted against the sales tax.
I think we at least need to demonstrate to the people of this community that we are going to try and cut spending, tighten our belts and try to do more with what we've got," said Supervisor Ally Miller. "Instead we continually go back to the taxpayer asking them for more and more and more, and as I said, we're getting to the point where the taxpayers afford us."
"There's certainly no reason why we have to dip into the household account, the general fund to come up with $50 or 60 million more," said Supervisor Steve Christy. "That money, if they can find if for social service agencies, they can find it for roads."
The resolution to instate a sales tax to fund road repair started as a plan pushed by Supervisor Christy since he entered office in 2016.
The supervisors also voted to strike what would have been a new 25-cent property tax from the county's budget Tuesday.
They instead instructed county staff to begin preparation of a bond issue that could go before voters in November.
"I just think that some of us felt the sale tax was not the best way to fund those improvements," said Board Chair Richard Elias. "Bonding might be a better way to do that, and it does put the question ultimately in the hands of Pima County voters."
The proposed bond question would ask voters to approve the issuing of $430 million in bonds. That money would provide initial funding for a 10-year road repair plan.
The board faces a July 10 deadline for the bond election to make the November ballot. The board's only scheduled meeting prior to that date is set for July 3.
"I think what the board is doing is saying that they would prefer to give the voters the option in November to approve [the bond issue]," said Pima County Administrator Chuck Huckelberry. "And until the voters decide, they're going to take the 25-cent property tax off the top, and give everyone a tax break this year."
A release from the county said county staff anticipates a drop of 37-cents per hundred dollars of assessed value on a property in the coming year, the largest tax drop in Pima County in 32 years.