Before "Saturday Night Live," "The Daily Show" or "The Colbert Report," there was "Rowan and Martin's Laugh-in," one of the most revolutionary television shows of all time. From 1968 until 1973, "Laugh-in" frequently was seen by 50 million viewers, capturing the zeitgeist of the era with its anarchic energy and pop aesthetic. Combining the blackout comedy of the vaudeville tradition with a 1960s-style "happening," psychedelic costumes, graphics, graffiti, outrageous characters and a new political awareness, "Laugh-in" became one of the most popular shows in history.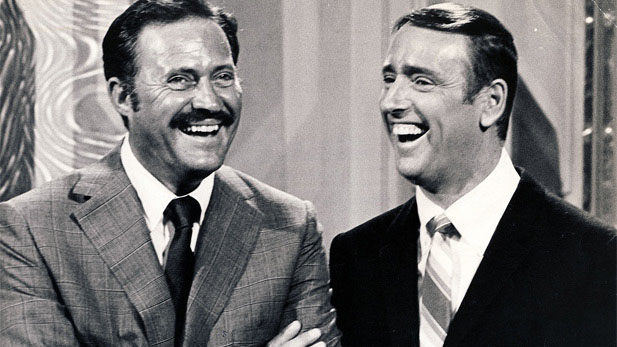 Hosts of LAUGH-IN, Dan Rowan and Dick Martin. (PHOTO: PBS)
THE BEST OF LAUGH-IN is a delightful tribute to the comedy-variety program, which not only transformed television but became an important training ground for an entire generation of young writers and comic talent.
Tuesday at 9:30 p.m. on PBS-HD.